While planning our trip to Lisbon, I found out there were tons of things to do in Lisbon and trying to fit everything in 3 days was just impossible.
After my trip to Lisbon, I would say that Lisbon is a hidden gem in Europe as the city has so much to offer and at affordable prices.  Lisbon may not have the draw of Paris nor the impressive monuments of Rome but it has its own way to charm visitors.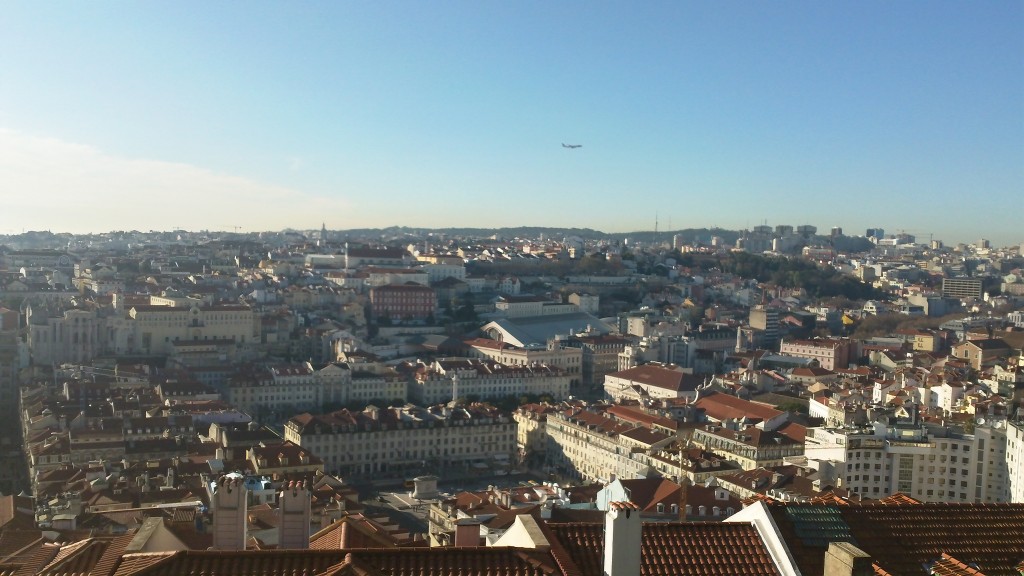 As you know, I tend to put an itinerary together especially for short trips in order to cover as much as possible.  Not the best way but if you only have 3 days to see a city for the first time, you've just got to make the most of them.
I was only able to finalize the list of things to do in Lisbon a few days before we left as we were indecisive about a few attractions. We didn't managed to do everything but that just gives us an excuse to come back again.
Things to do in Lisbon
1.  Tram 28 – We took it from from Barrio Alto to Baixa and walked to Praca do Comercio. It's a touristy thing to do but going to Lisbon and not taking the tram is like coming to Rome and not seeing the Colosseum!
2. Rode up Elevador do Bica –  This was our 1st ride and it was thrilling.
3. Miradouro de Santa Catarina – The views were gorgeous but it was a bit of a disappointment compared to how it was described in the guidebooks.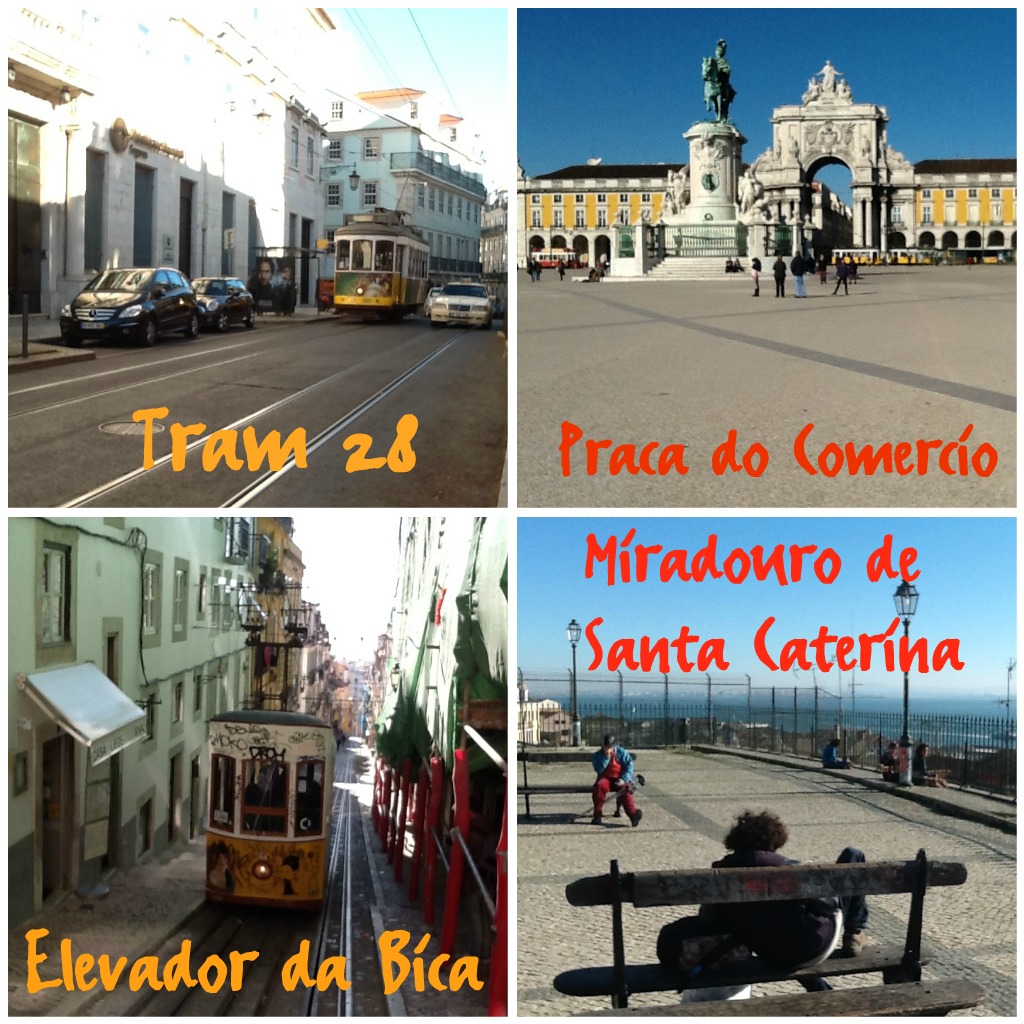 4. Largo do Chiado – walking along Rua Garrett. Pleasant stroll as it's flat and this area was buzzing.  Since it was a warm winter, people were sitting outdoors enjoying their drinks and meals.
5. Convent do Carmo / Carmo Archaelogical Museum – Fascinating how the structure is still standing and wished there had an audio guide to give us a more detailed description of what we were looking at.  There were some brief information and just this piece of paper as a guide.
6. Estacio do Rossio – The horseshoe arches and intricate carvings of neo-manueline style.  There was a Starbucks here and that was good news for Luca.
7. Rossio – is what most people call it but its lesser known name is Praca Dom Pedro IV. The wave-like effect created by the cobblestones was magnetizing.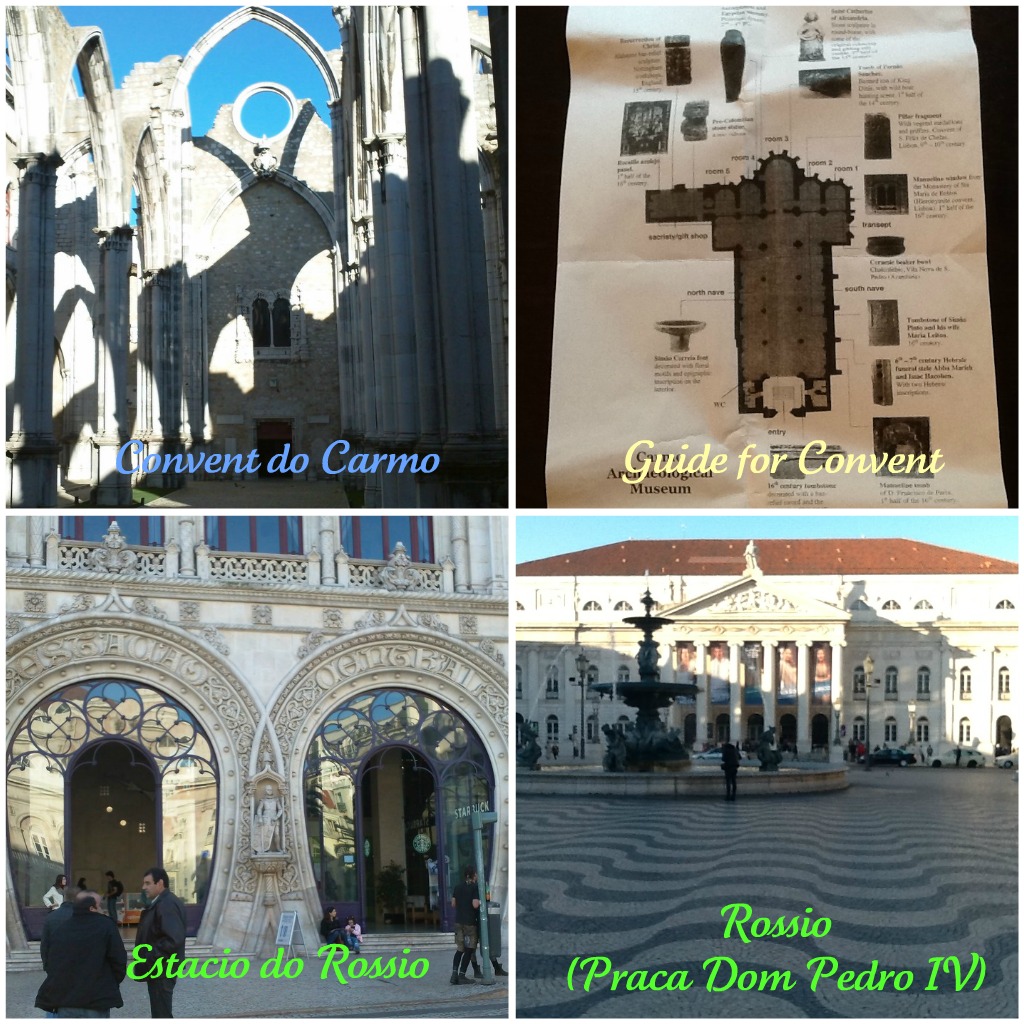 8. Inside Lisbon Gourmet Walk – We met our guide at Rossio.  Outstanding walking tour that lasted more than 3 hours and definitely value for money.  More on this in another post.
9. Elevador Gloria – to get you to Miradouro de Sao Pedro de Alcantara which I personally think was the nicest viewpoint. Also don't forget to visit the Igreja de Sao Roque which is richly decorated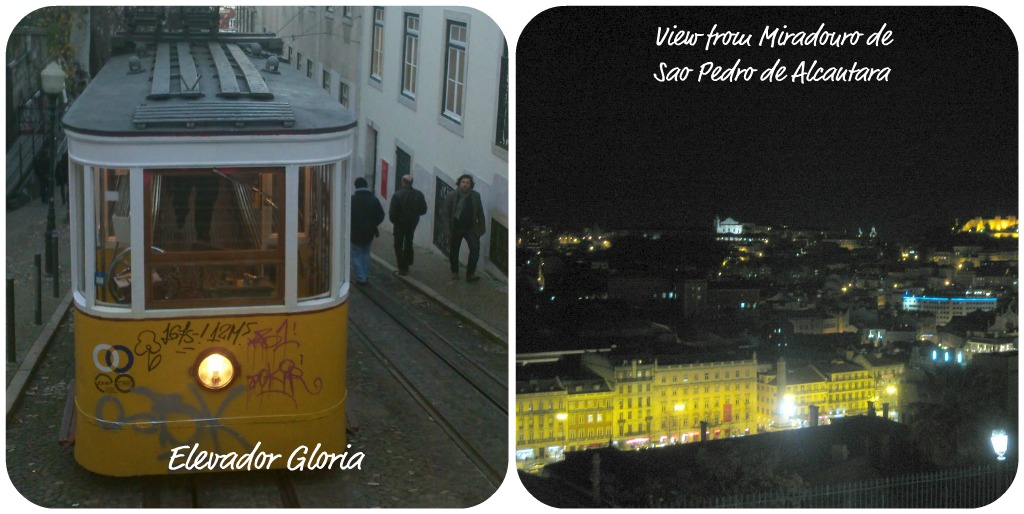 We did all that in just one afternoon! The next day would be a road trip to outside Lisbon.
10. Pasteis de Belem – Started the morning right with the original custard tarts from Belem.  Absolutely the best we had in Lisbon and we tried many.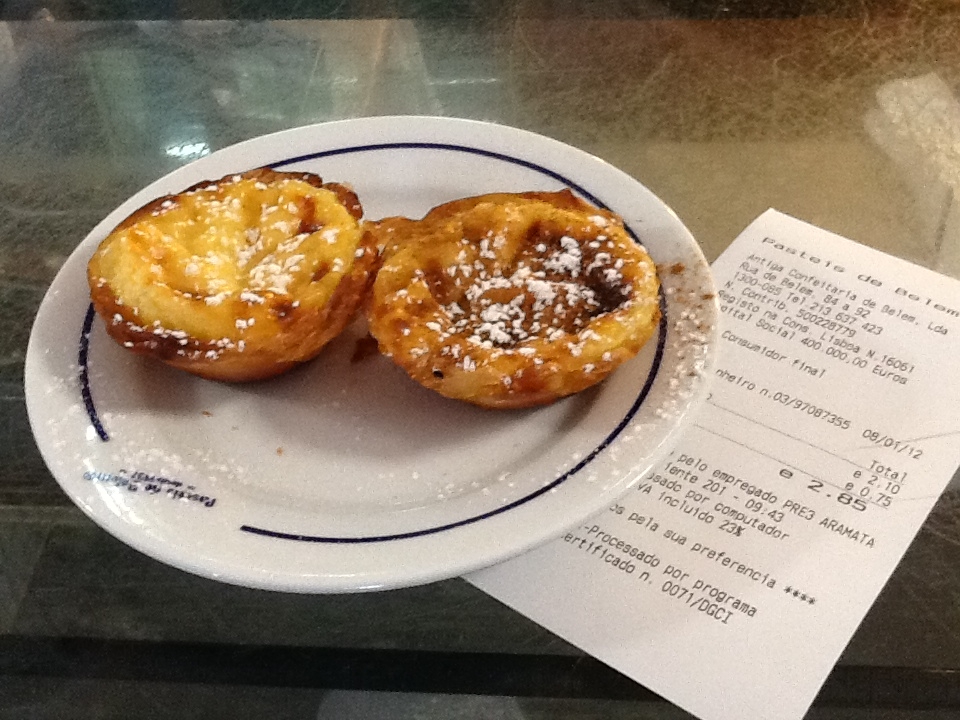 11. Mosteiro dos Jeronimos, Belem – Enchanting and sense of serenity but feel I have missed out on a lot as there was no audio guide to provide the details.
12. Belem Tower – This is one of the icons of Lisbon and it looked smaller than what you see in photos.  There is a narrow staircase that gets you to the top of the tower.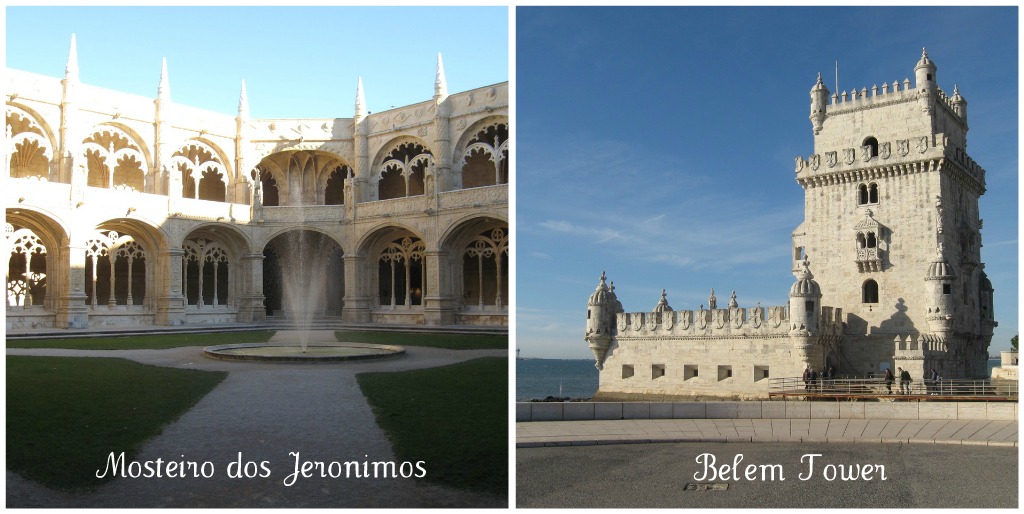 13. Palacio Nacional da Pena – The brainchild of Ferdinand of Saxe Coburg-Gotha, Prince of Bavaria and husband of Queen Maria II, this magical castle rewards you with an extraordinary view.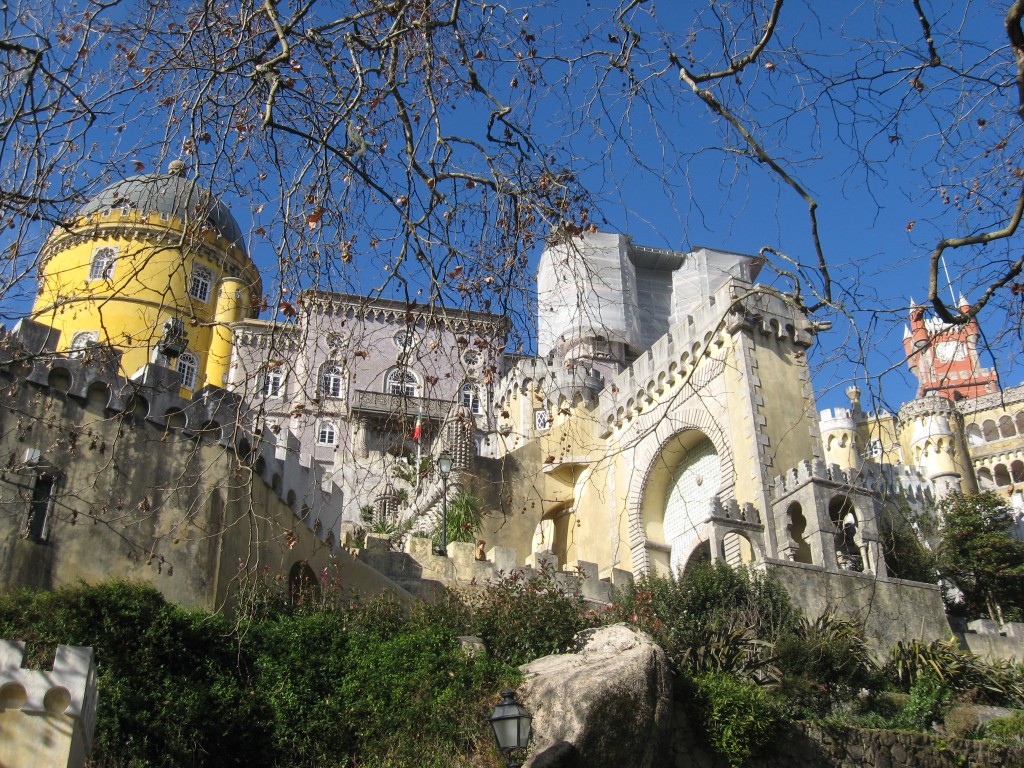 The entrance fee is €9 and from the entrance of the Palace to the actual Palace itself, there is still an uphill walk. If you legs are already worn out from the day before, take the shuttle which costs €2 (roundtrip).
There are buses from Sintra town centre which gets you to the entrance of the Palacio for a small fee.  When driving up, we saw some people were courageous to walk to the whole way but since there are no proper sidewalks, I would suggest taking the bus up.
Here is a link to the municipality of Sintra which gives you details on the attractions and transportation to and around the town.
14. Castelo dos Mouros – As we were short on time, we had to skip it.  We could see it from the Palacio Nacional da Pena and its mystical look is very inviting.
15. Palacio Nacional de Sintra –  Another attraction we didn't get to visit but managed to take a picture while passing by.
16. Cabo da Roca – This is the westernmost point of continental Europe. A friend told us that view was fit for a postcard. Although we only had 3 days in Lisbon it was too tempting to miss. The scenery was beautiful and glad we made it here.
17. Cascais – We stopped by this town on the way back to Lisbon.  For a small town, it was crowded but nonetheless, very charming.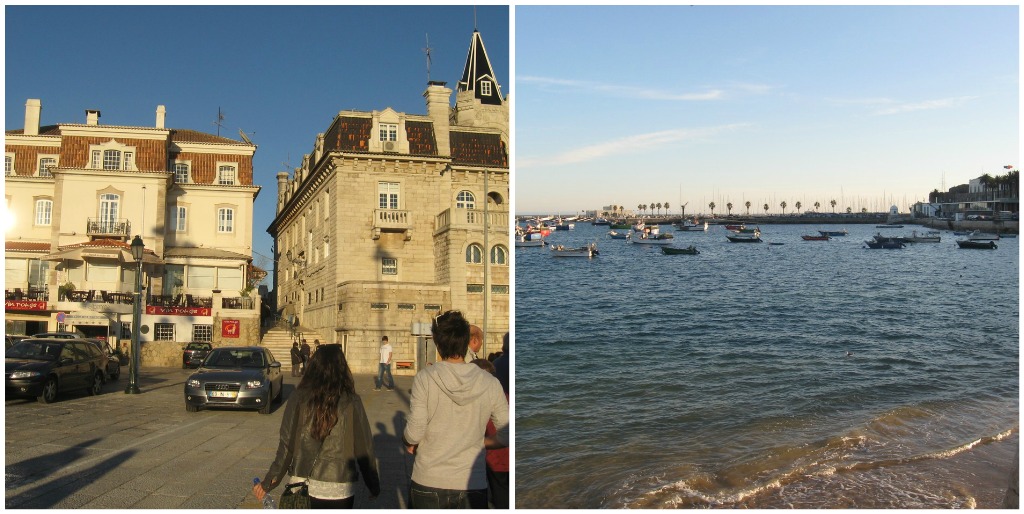 18. Estoril – Unfortunately, we just drove through this town which is right next door to Cascais. It was quieter and definitely look more upscale.
19. Cristo Rei – A site that we wanted to see and also a reason to drive through the Ponte 25 de Abril ( 25 de Abril Bridge).  In the background, you can see a statue that which is of Jesus overlooking the city of Lisbon.
That was Day 2 and we exhausted but managed to make it to dinner at Cervejaria Trinidade.
20. Elevador de Santa Justa – If you have a ticket for the day, it is also valid for this elevador. You basically get a 360 degree view of the city from the top.  When you get to the top with the elevator, there is a stairway that gets you right to the top but you have to pay a small fee.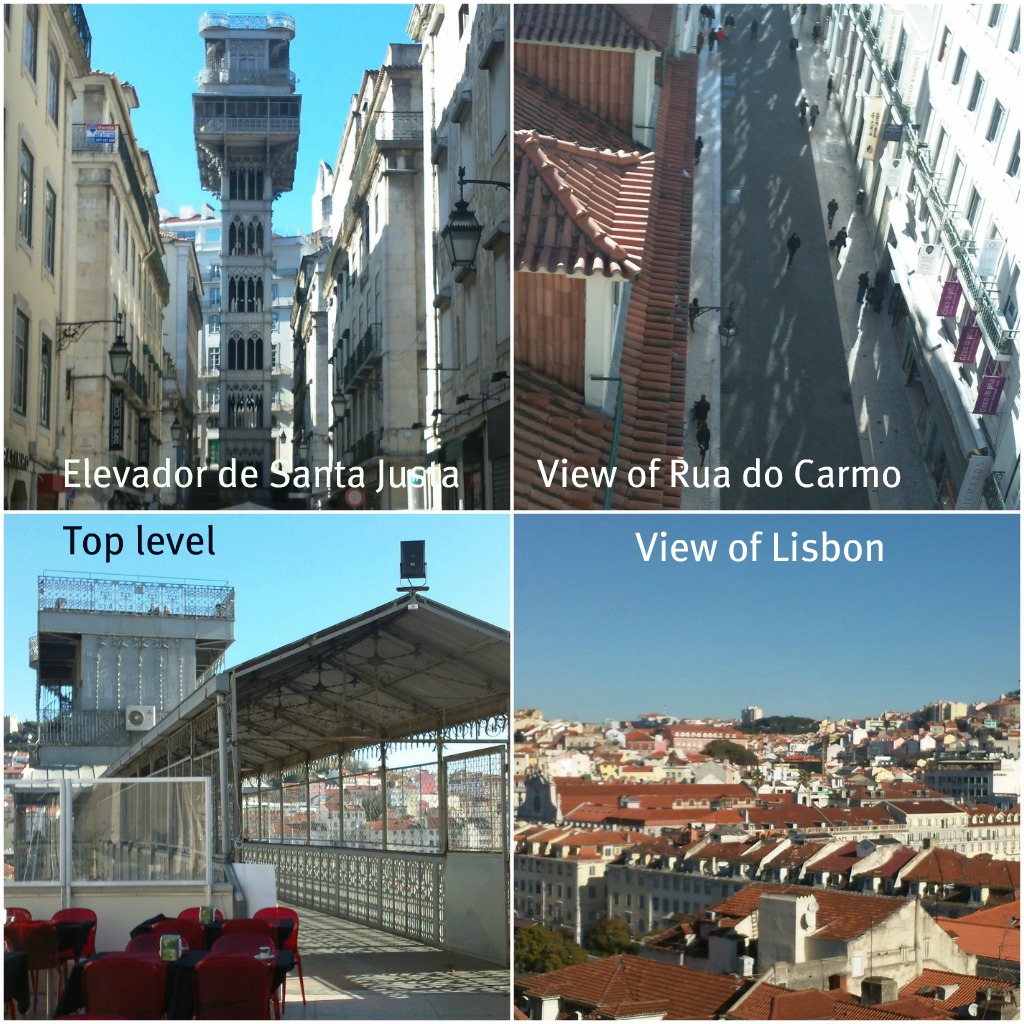 21. Praca da Figueira – Nothing special here but you get a wonderful view of Castelo de Sao Jorge. Most buses stop here and Tram 15 which gets you to Belem.  There are also cafes with outdoor seats.
23. Rua do Carmo  – Window shopping in this area and stopped to taste what we were told were the best gelato in Lisbon and best chocolate cake in the world. Verdict:  The gelato in Rome is way better and the chocolate cake was different but not the best!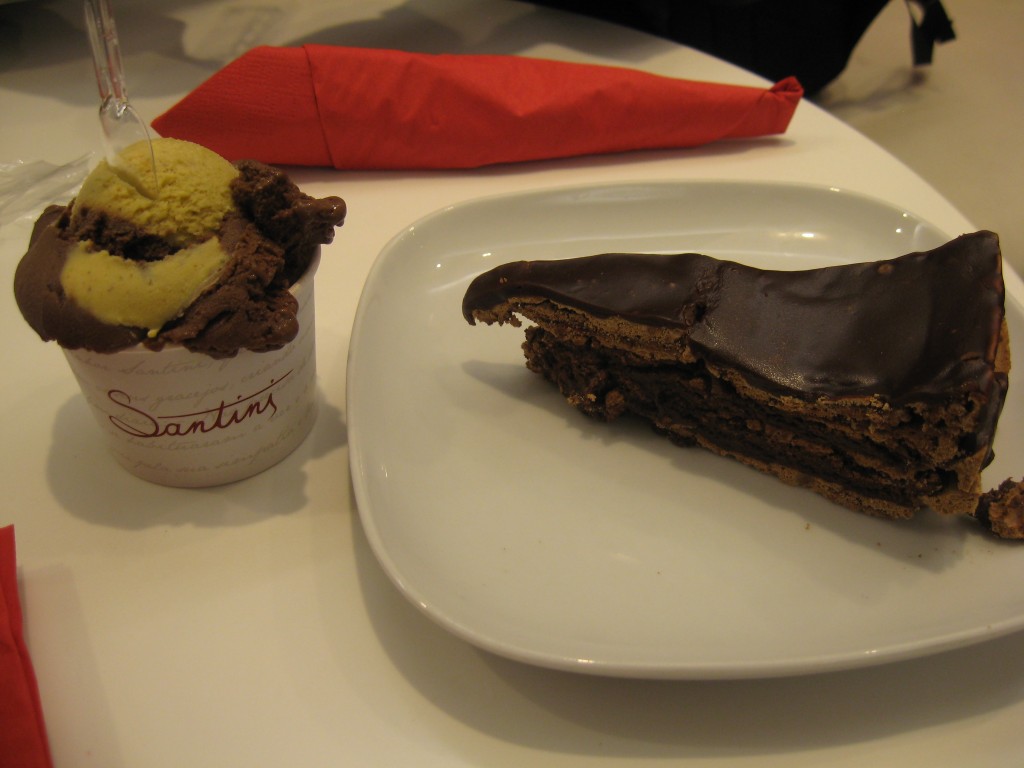 24. Baixa area: Rua de Aurea / Rua Augusta / Rua Prata just stroll around this area and get a feel of Lisbon!
25. Lisbon Explorer Alfama Tour – another fantastic 3-hour tour which included a visit of Castle of Sao Jorge and a walk through the streets of Alfama to get a feel of the atmosphere in this neighborhood.
After the end of the day, we were just spent and called it a day!
Lisbon Travel Tips
Aerobus –  From the airport to the city, take the Aerobus which costs €3.50 per person.  Here are the stops on the routes and make sure you validate them when you get on the Aerobus. The ticket is valid for 24 hours from when it was validated and good on all public transport except the metro.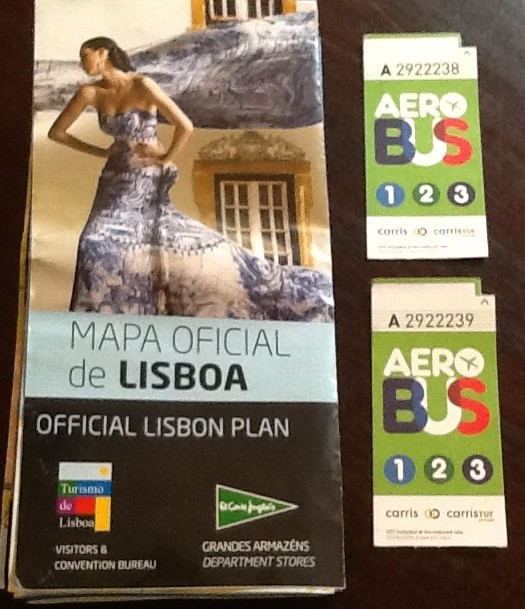 Maps – This city has steep hills has steep hills and often not shown on maps.  TimeOut Lisbon has a good map which gives some details as to stairs or steep areas. The official map of Lisbon can be improved as it's hard to read. I relied more on the maps in Timeout Lisbon.
Transportation –  Get a 7 Colinas Card that you can recharge daily. The card costs €0.50 (one time fee) and for 24 hours of unlimited travel on all public transportation including the metro it costs €4.60.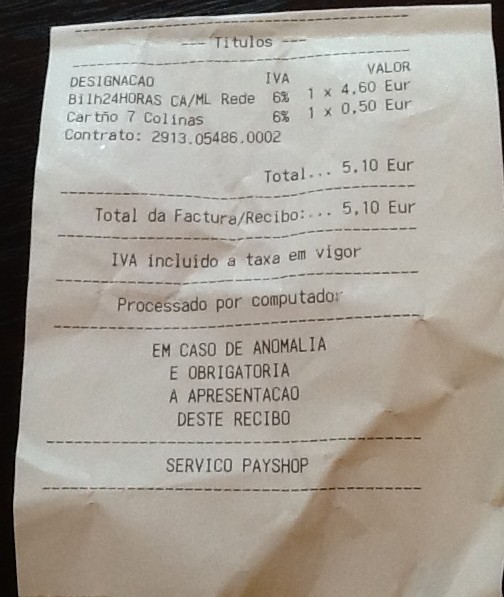 It is valid for 24 hours from when the card is validated. You can recharge the cards for several days at a time instead of daily.  To recharge you can do so at a post office or at the metro stations.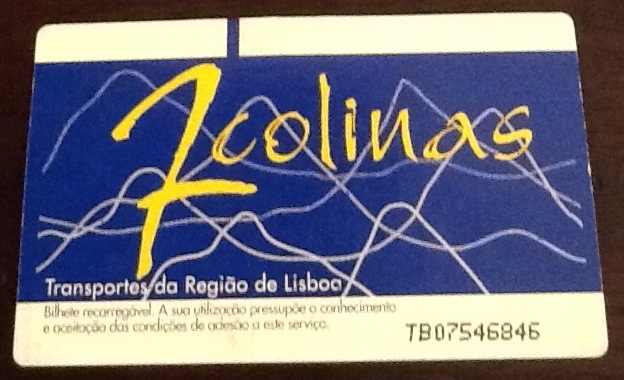 This means, if you validate the card at 10.00am it will be good until the next day 10am. Unlike the Integrated Day Ticket in Rome which is valid only until midnight of the day it was validated. Just keep in mind that the 7 Colinas card is not valid on the Aerobus.
You can purchase the 7 Colinas card at post offices or metro stations. We got ours at the post office at Largo do Camoes near the tram stop.  For more details on getting around, here is good resource on transportation in Lisbon.
Quick Bites – The pasteleria in Lisbon are similar to Italian "bars".  They serve pastries and bica (similar to espresso) for breakfast which you can have at the counter and for lunch and dinner, tables are set for the crowd.
Like in Italy, these pastelerias also offer sandwiches or if you prefer to take a seat, try their special of the day (prato do dia).  Some even have their set lunch at the counters.
The first day, we got sandwiches to go and they were very good and on the last day, we sat down for lunch at a pasteleria and they were fast.  The pasteleria we went to was packed with those from the nearby offices and as far as I could tell, we were the only tourists.  The costs of lunch where we had grilled meat, rice and chips as well as fish with tomato rice with a glass of wine was €13.50. Very reasonable, won't you say?

Hopefully this list of things to do in Lisbon and travel tips will get you started and as you plan your trip, you will likely find many more to add to your list.
If you have been to this city, what would you add to this list of things to do in Lisbon?