I was immediately fascinated with the trulli once I found out about them and though most Italians are aware of them, I had only heard about them after two years of living here in Italy.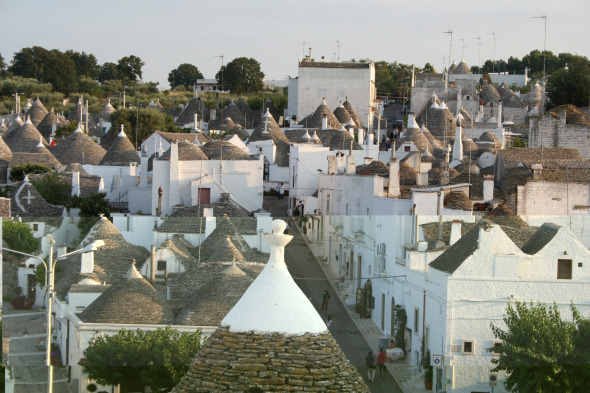 Trulli are found in the Apulia region in Southern Italy. This region is still relatively unknown compared to the central regions in Italy such as Tuscany and as such, has not yet been fully discovered by tourists.
Apulia has plenty of attractions to offer that could easily draw the crowds and one such attraction is the town of Alberobello. If you get chance to visit this one-of-a-kind town, don't miss the opportunity to stay in a trullo. It will be an experience of a lifetime.
Before getting carried away, first things, first.
Where is Alberobello?
Surrounded by lush countryside and rolling hills, the town of Alberobello is located in the center of Italy's Apulia region, better known as the heel of Italy's boot. The beautiful scenery and picturesque small towns of Apulia attract many visitors and none more so than Alberobello.
View Larger Map
What are trulli?
While driving along the small country roads through olive groves and vineyards, you'll notice odd stone dwellings with conical roofs dotting the landscape. These are the famous trulli, the traditional houses found only in Apulia.
One of Italy's most unique and striking forms of domestic architecture, the trulli are remarkable examples of what is called drywall construction made without the use of mortar. They are built in a circular form out of roughly worked limestone blocks carefully stacked one on top of another, and most often feature a cone-shaped roof. This age-old building technique was refined by the residents of Apulia beginning in the 17th century.
The trulli are famous not only for their curious shape and construction, but also for the fact that they were originally designed to be demolished and rebuilt in a short time. Houses are generally built to last centuries, so why where the trulli built to be easily torn down?
Origins of Trulli
While the origins are a bit uncertain, the most popular theory is that this unusual habit started as a clever form of tax evasion. The trulli were traditionally farmers' homes, and in order to avoid paying taxes to rich property owners, they built their houses so that they could be dismantled quickly.
When word came that the tax inspector would be paying a visit, the homes were destroyed, and then quickly rebuilt when the coast was clear. It is said that some farmers were so good at building their trullo that it could be collapsed by only removing one stone!
Trulli Today
While trulli dot the countryside of the Itria Valley in Apulia, and can be found in the towns of Locorotondo, Fassano and Ceglie Messapica, the small town of Alberobello is known as "the trulli capital" of the region.
Alberobello's trulli are so unique, in fact, that they were designated a UNESCO World Heritage Site in 1996. Walking along the trulli-lined streets of this remarkable town, you can visit many of well-preserved structures that have been turned into quaint shops, B&Bs and restaurants.
Their striking whitewashed walls and conical roofs topped with various shaped pinnacles stand out in start contrast to the brilliant blue sky. It's a true feast for the eyes!
Once inside, you will marvel at the refreshing features of these rustic trulli especially if it's a torrid Apulian summer day. The thick walls and unique design keep the trulli cool in the summer and insulated from the cold winter winds. Although seemingly primitive structures, they are perfectly adapted to the climate and landscape of Apulia.
For a unique vacation, stay overnight in one of the many trulli that have been converted into comfortable accommodations. There is no better way to experience the unusual and charming trulli of Alberobello.