Now back in Rome, I am reminiscing as well as missing the awesome Sicilian food we had while on vacation there.  You are spoilt for choice in Sicily and while we tried to pace ourselves in those two weeks, it was a real challenge.
We literally ate our way through Sicily, starting in Palermo where we enjoyed some street food.  Our next stop was San Vito Lo Capo and as we had a kitchen in the apartment we rented,we prepared all our dinners at home.
Breakfast was a different story as we indulged on various pastries, the most memorable for me were brioche with almond granita and graffe, fluffy doughnuts filled with sweetened ricotta.
After a week in San Vito Lo Capo, we made our way to Agrigento to visit the Valley of the Temples.  Here we stayed in Baglio della Luna overlooking the Valley and dining outdoors with the spectacular view added to the lovely experience.
We had arranged for a half board so dinner was included in the rate that was €140 per night for two.  We were given the menu and told that with the half-board, we could choose three different courses.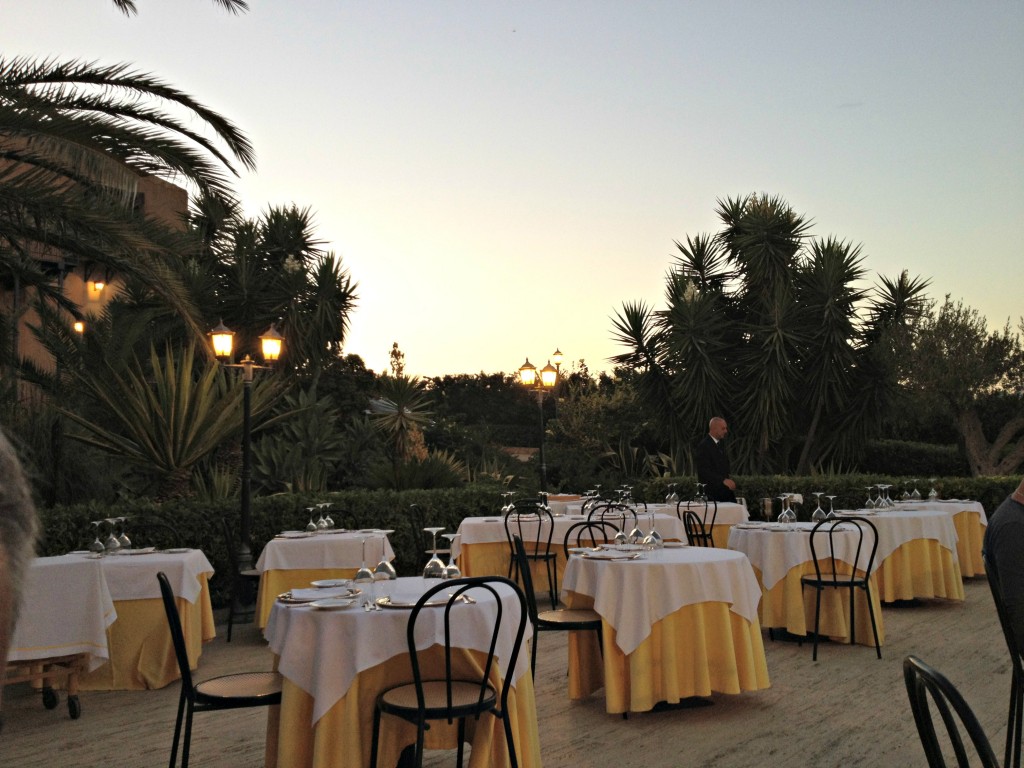 They have an extensive menu and at the end, we both opted for appetizers, first and second course. You read right – no dessert but we could have it at our own cost.  Drinks were not included but the prices were reasonable.
These were some of the dishes we had. Luca said that all three of his choices were mediocre but I found all mine to be outstanding.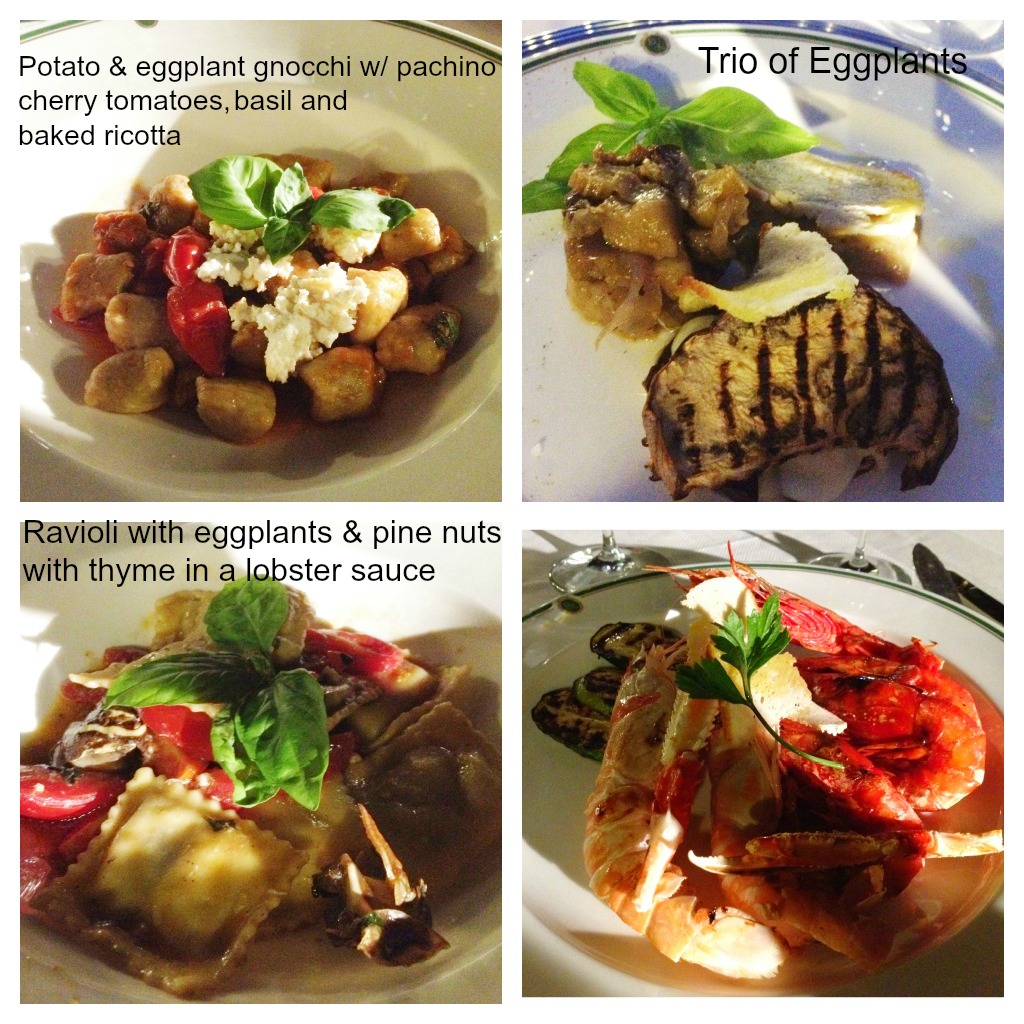 After the meal, we had contemplated having dessert and even asked for the menu again. Unfortunately Fortunately, I was stuffed and passed (what a crime!)
The next morning, I was actually glad we passed on dessert.  Baglio della Luna has an incredible breakfast spread.  What a treat!
Following Agrigento, we stayed in Piazza Armerina before heading to Taormina where we stayed at an agriturismo that was in the middle of nowhere.  The roads leading there were only meant for one car and I was getting anxious about what will happen if another car came from the opposite direction.
That didn't happen, an indication that we were heading to the boonies.  Salemi Agriturismo looks relatively new and has a nice familiar charm.  We also chose the half board option here and discovered there was only one other room that decided to do so too. Again, beverages were not included.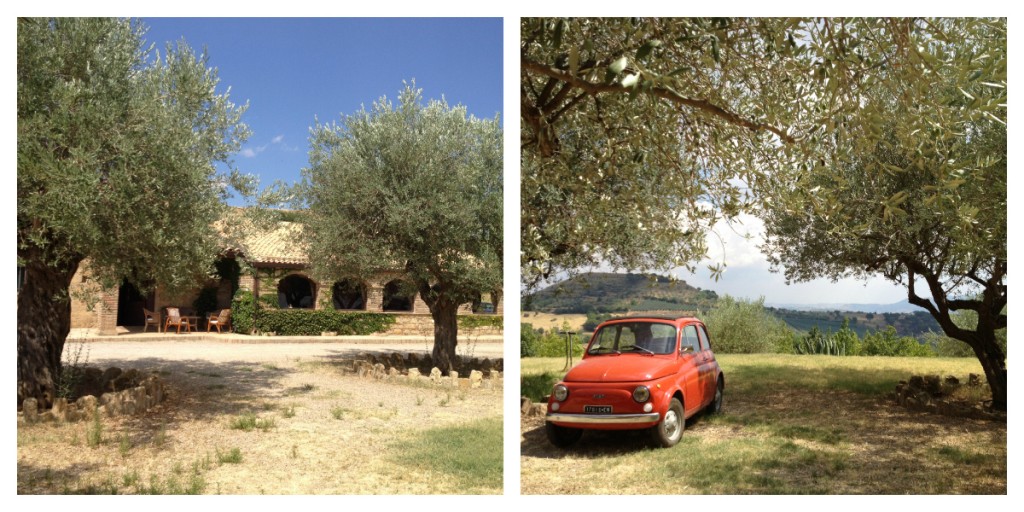 The lady who welcomed us was also the waiter, cook and basically, the only staff.  After being seated, she started bringing out various dishes such as cold cuts with cheese, cous cous, grilled vegetables, caponata and parmigiana.  I looked at Luca and asked "Is this appetizer or the entire dinner?"  He shrugged as he too had no idea.
We were hungry and cleaned out everything. We figured this was dinner but we were wrong.  After that came some pasta which was forgettable and only had a small portion.
Following that we had grilled meat with salad and finally, I say finally as we felt we had way too much, dessert and some fruits.  Thankfully, the room was about 20 meters away and we could roll back if we had too.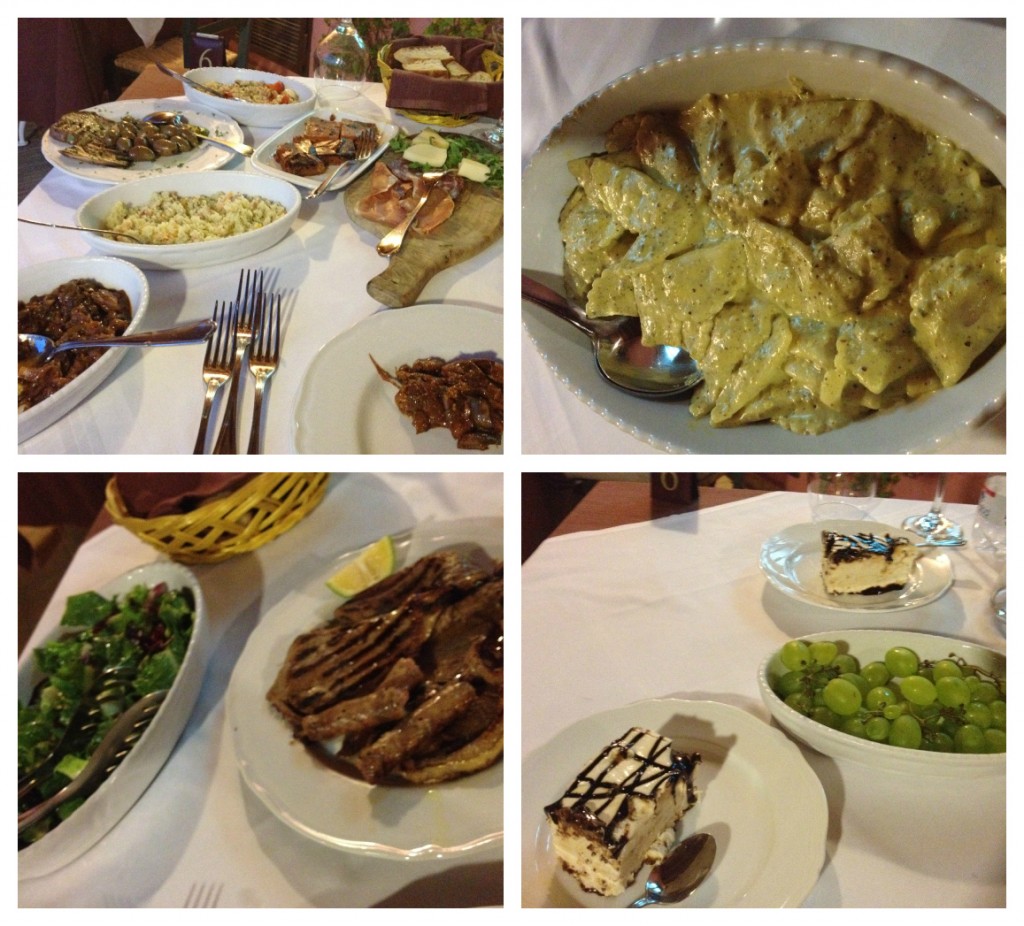 In Taormina, the sweet elderly lady at the B&B recommended a few restaurants.  She said since it was a Monday, they restaurants mentioned would be closed but seriously, why would a restaurant close the week of Ferragosto as that's peak period of them.
I made Luca call the restaurant to be sure and they were open – no surprise there. Al Saraceno is situated near Madonna della Rocca a church perched above the town.  Check out the view we had – impressive with Etna smoking in the background.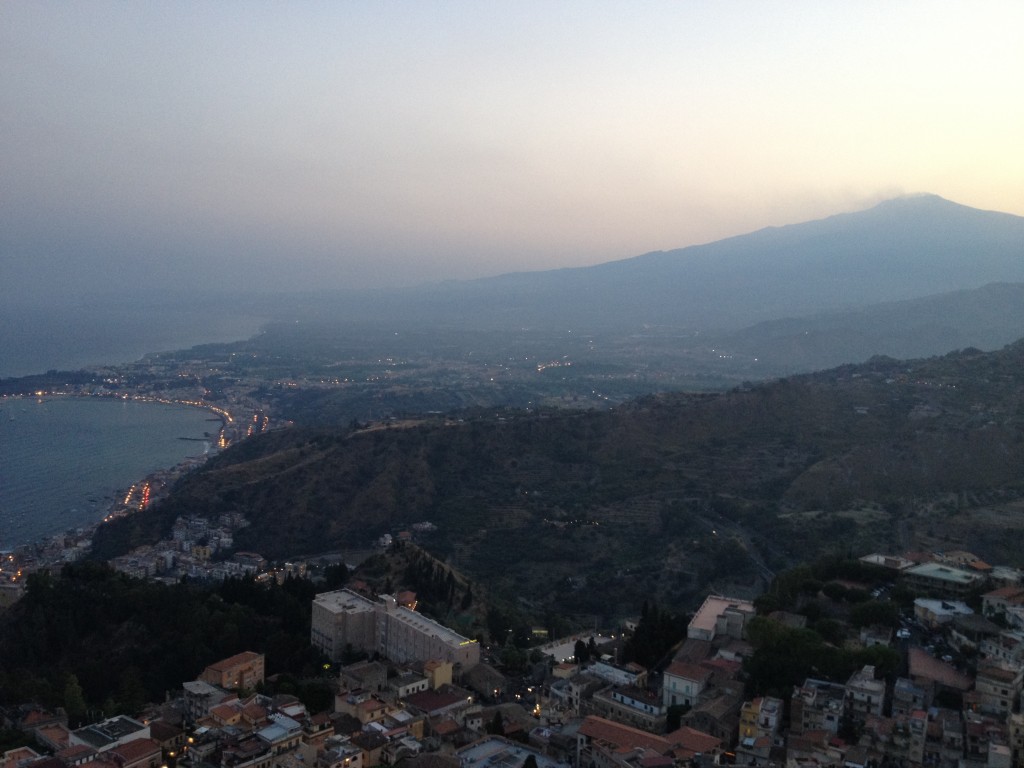 We started with appetizers and since we haven't tried cous cous di pesce, I asked the waiter as to how big the serving was.  She told us it was a generous portion and I felt it would be best to share it with Luca.
Look at that size – it's for one and the both of us were struggling to finish it!  No dessert again this evening for the usual reason but we did ask for the dessert menu. Nothing caught our eye.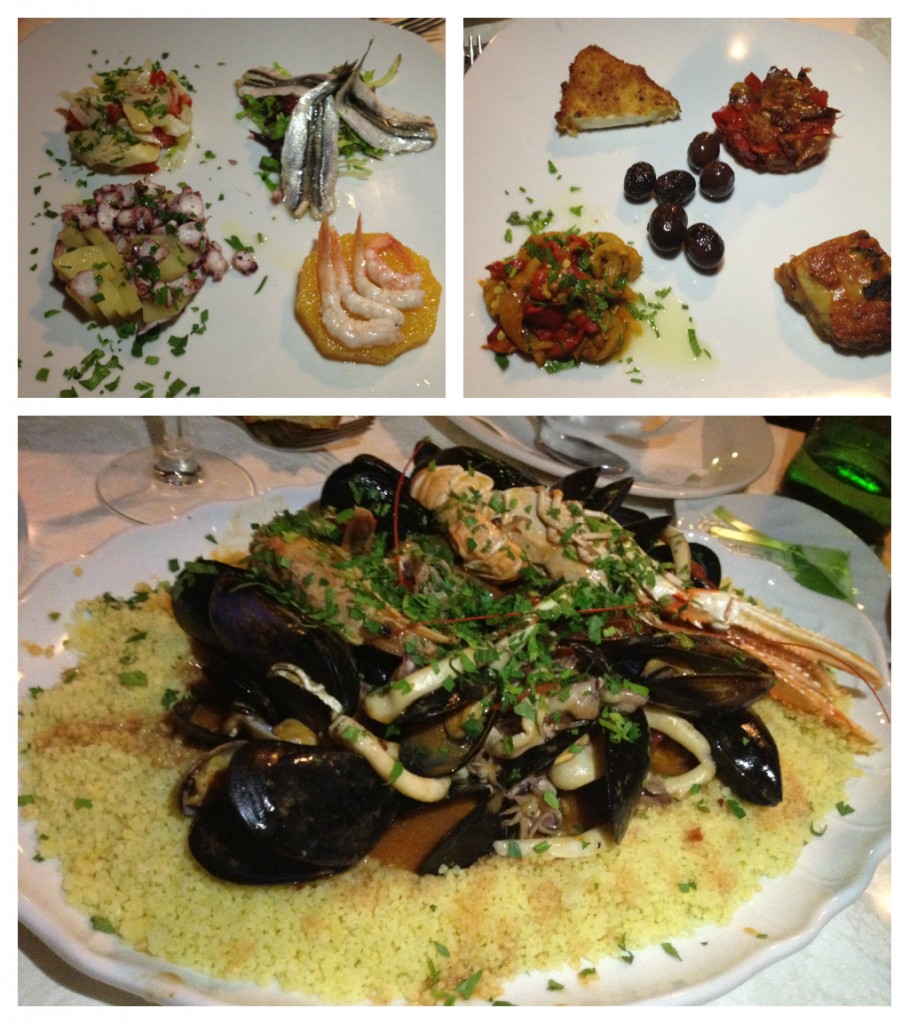 Our final destination was Cefalu. We ate at two decent restaurants,
Ti Vitti
 as it was close to the B&B and
Le Chat Noir
where I finally got smart and saved space for dessert.  It was our last night in Sicily and I had to get a cannoli which was well worth it – freshly filled and finishing on a sweet note.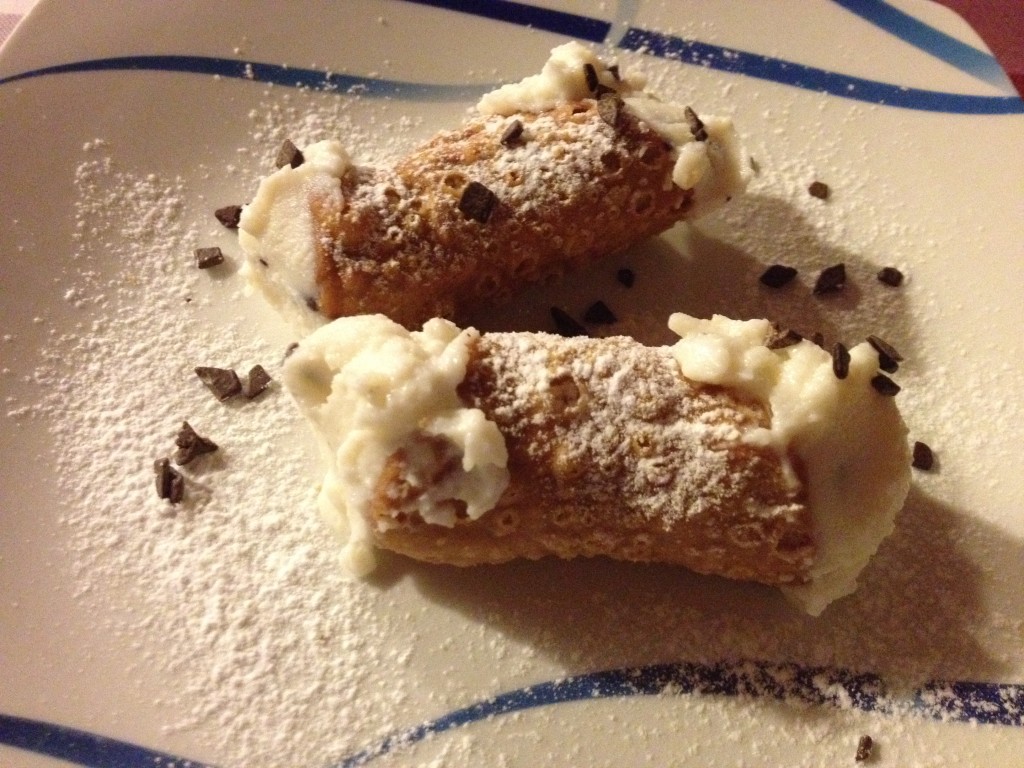 While this post is about the food we had, Sicily is an incredible place and I will soon write more about the places we visited.  After looking at all the photos, I am craving for some Sicilian food – cannolo please!