Gibberish chatter, endless energy and unrestrained giggling filled the air as the girls swung out of the revolving hotel door. Grinning ear to ear, these were evident signs that Mission Delicious was a bit hit for these little girls.
Thanks to the kind invitation by the Westin Excelsior Rome, I had brought three girls, my twin nieces and their friend, to the Mission Delicious event held on Saturday a few weeks ago. The girls weren't sure what was in store for them but they did know they were going to get their hands dirty in a cooking class. And that itself was enough to stir up some excitement.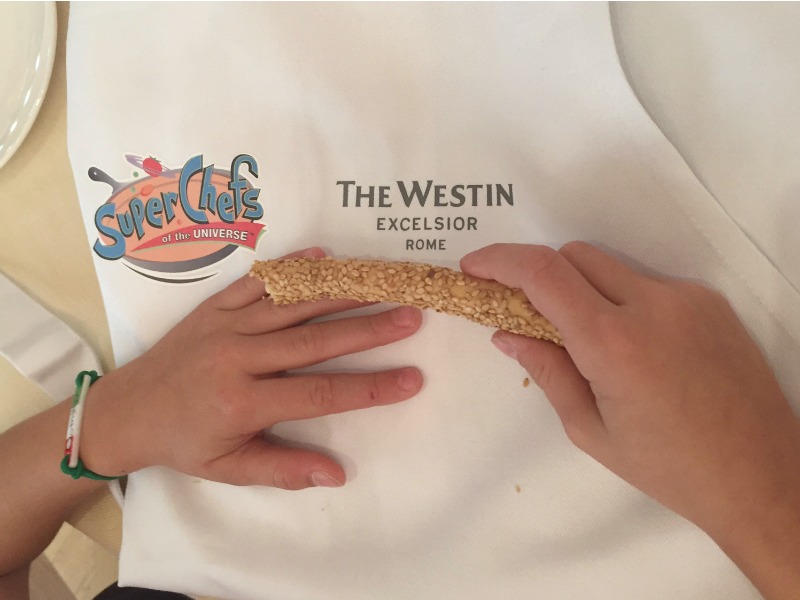 With still vivid memories from the last time they made their own pizza (and gobbled it up too), they spewed out a ceaseless barrage of questions on our way to the event: zia where is the venue, zia what will we be making, zia who else will be there. Oh, how I admire parents.
Dazed and intimidated by the elegant and contemporary setting of Restaurant Doney, the venue of the event, they meekly shuffled in with much needed encouragement from zia. Before settling down at the table, they were surveying the setup at the side, rolling pins, color pencils, and arts and craft materials. Once seated, curiosity finally got the best of them.
The goodie bags placed on the table drew discussions of what could be inside. Knowing how little patience they had, we allowed them to grab their bags before any ruckus broke up. They eagerly reached for it, and started pulling out pasta, bottarga sauce, a pamphlet with recipes by the Executive Chef James Foglieni, a chef's hat, and an apron. While the girls were fixated with the chef's hat and apron, zia was enviously eyeing the bottarga sauce. How she wished she got a bag too.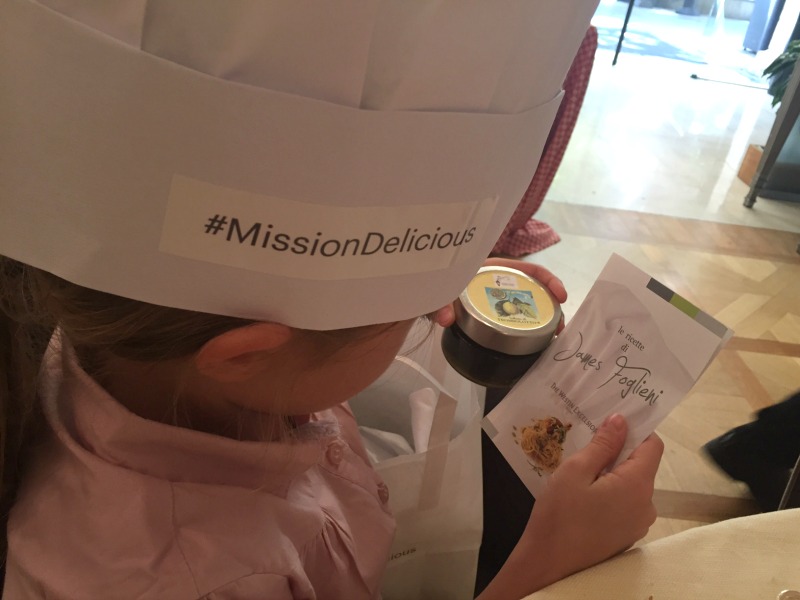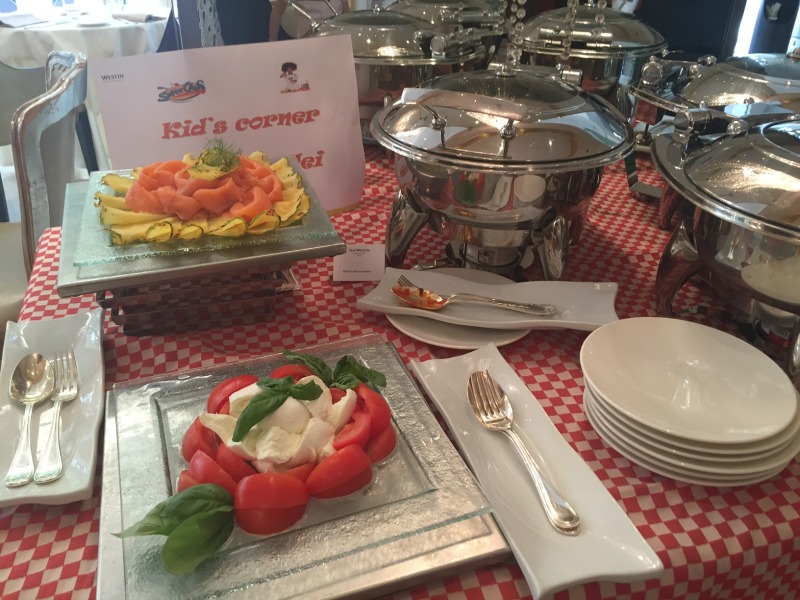 Lunch was all set up at the kid's corner with a delicious spread of mozzarella and tomatoes, smoked salmon, followed by gnocchi with tomato sauce, mini hamburgers, and roast chicken. They heartily dug in and once they tummies were filled, they immediately reached back into the bags for the apron and the chef's hat. Proudly wearing their crisp white apron and the chef's hat, they were ready to head into the professional kitchen.
The moment they had been waiting for.
Like a trail of ants, one behind another, they excitedly marched into the sparkling kitchen behind, Giulia Moroni of Kikids, where they were greeted by Executive Chef James Foglieni and Chef Andrea Baricelli. Ooohs and aahs, from kids and parents alike, echoed through the kitchen as they revealed a mountain of silky smooth grayish dough once covered by a dish cloth that had been left to rise for 6 hours.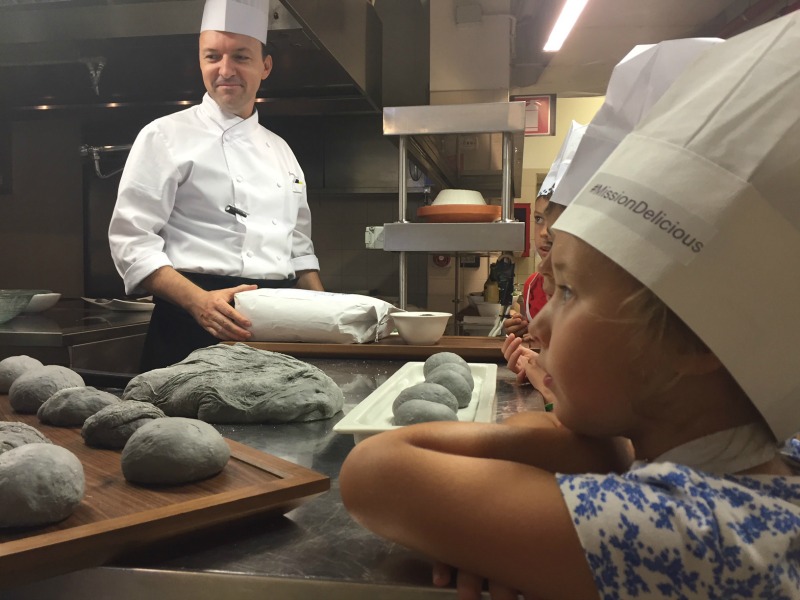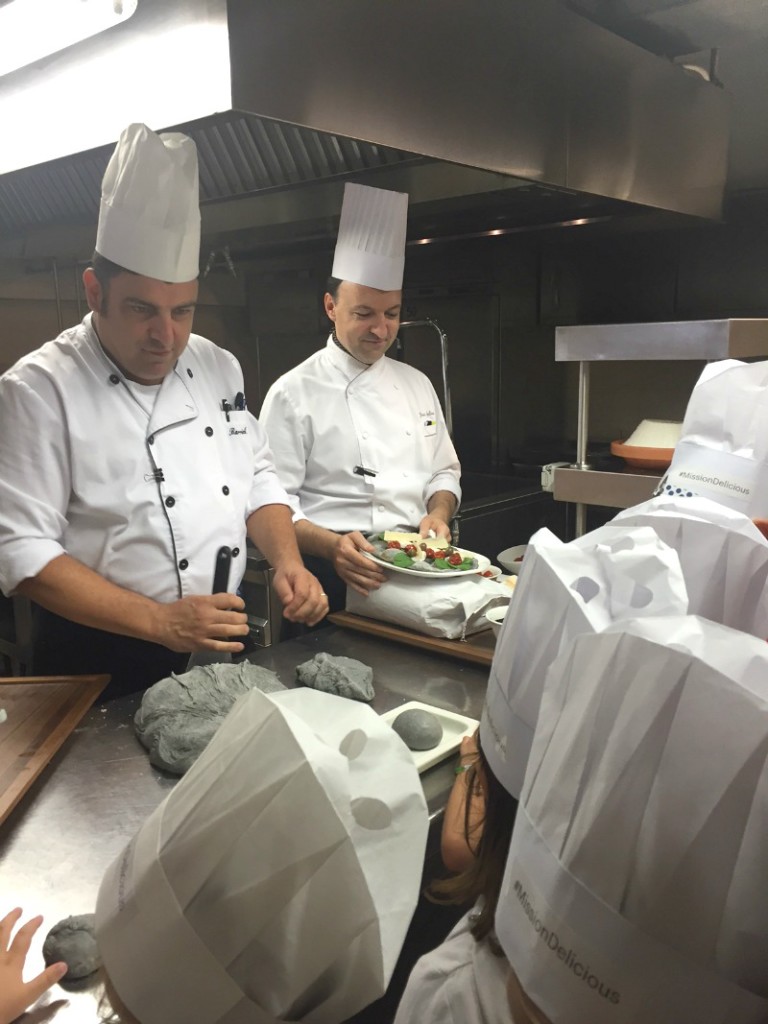 The chefs asked for a volunteer to help deflate the dough, and one and only one hand shot up immediately. And older kid who couldn't wait to sink his fingers into this beautiful raised dough. The other children, on the other hand, were still in their timid state of mind.
Once the dough was deflated, Chef Andrea pinched a small piece off and with one hand and light wrist motion, he formed perfect balls of dough. Eventually a few kids lost their timidness and got involved in the action.
After the tray was filled up with the balls of dough, the chefs showed what the final result of the black and white focaccino should look like, garnished with spinach, ricotta and cherry tomatoes. With that in mind, the children march back out to the corner dining area where a table has been set up for them to assemble their masterpiece.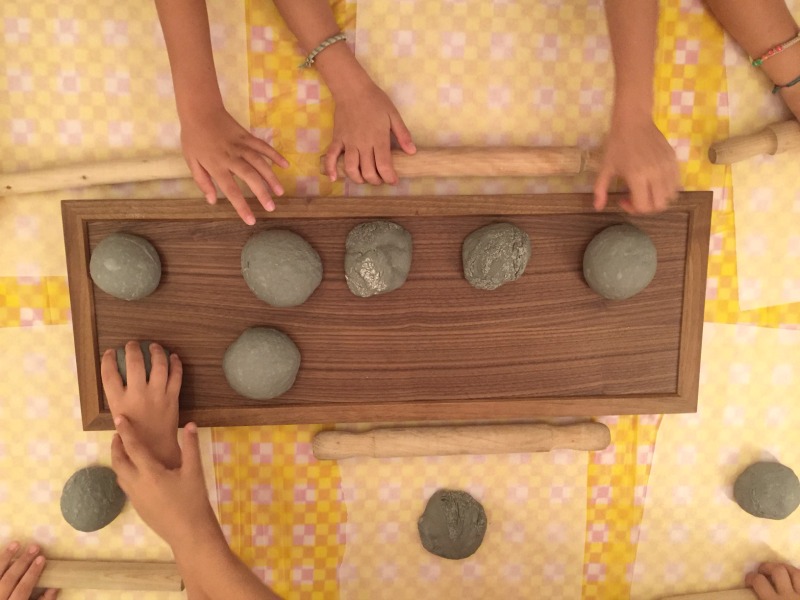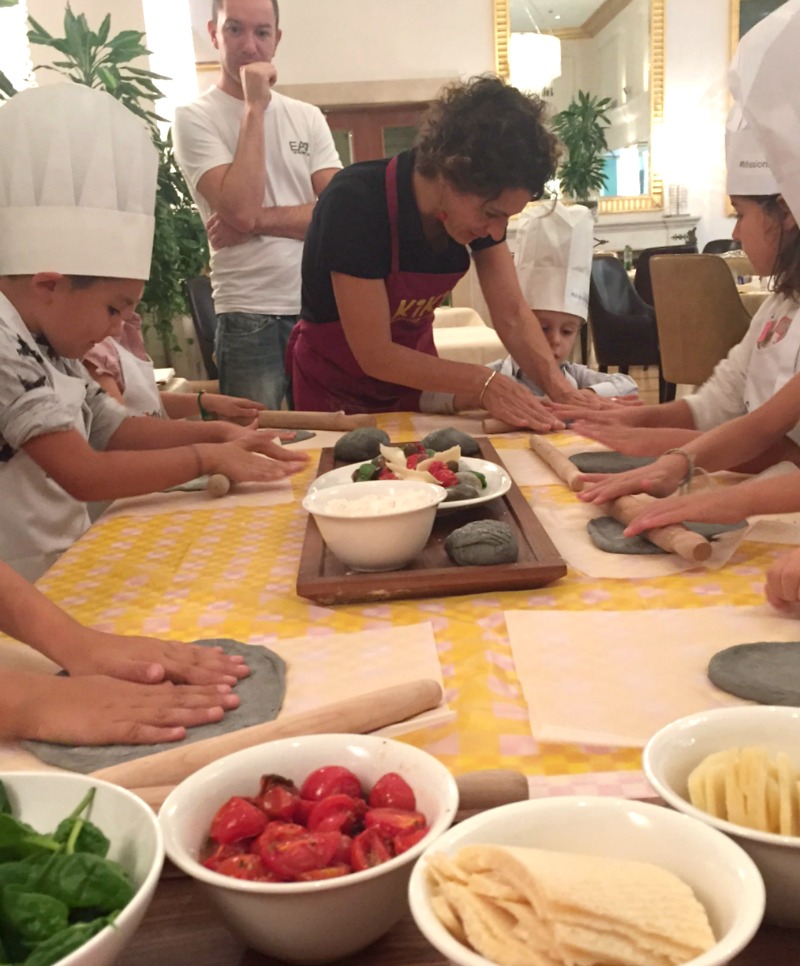 Each grabbing a piece of dough, Giulia gave the children tips on how to use the rolling pin, suggesting that they not only use their hands but also the slow rocking back and forth movement of the body during this process. The kids were having a ball, and it was amusing to see their creativeness shown in their black and white focaccino.
When everyone was done with their masterpiece, it was taken to the kitchen to be baked. During that time, Giulia kept them entertained by making them a cute little personalized holder where you could place utensils.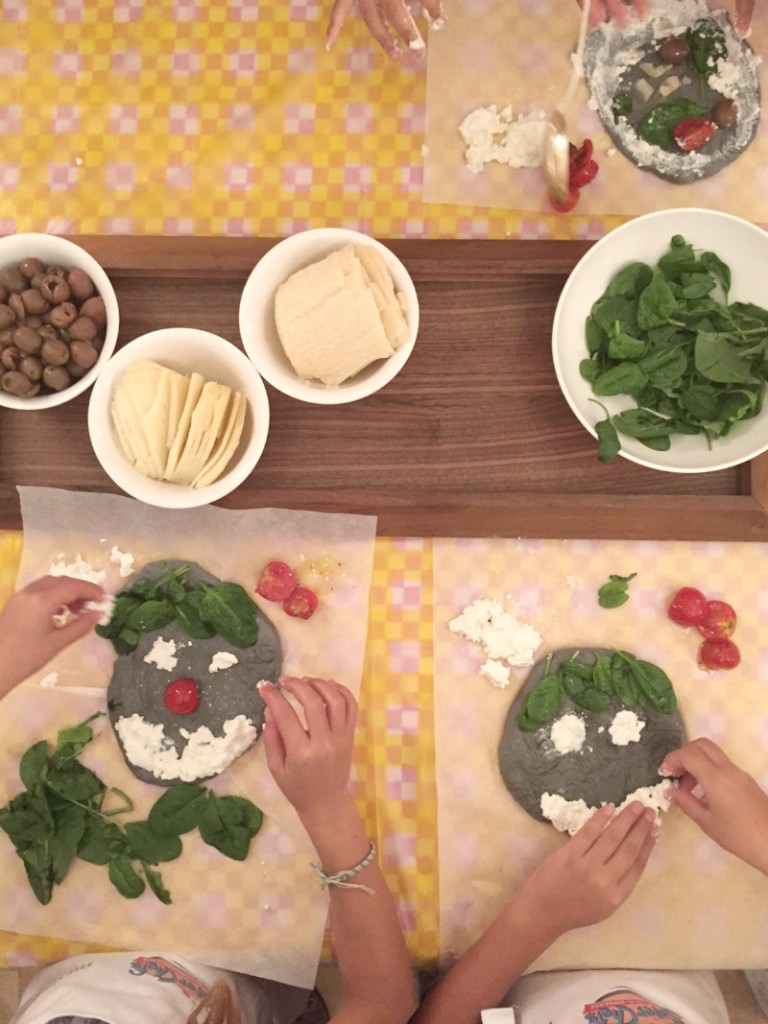 Timed perfectly, their focaccino was ready. As each focaccino was identified with a small design on the baking paper, each kid was sure they got to eat the one they made.
My nieces were eager for me to try their focaccino and though reluctant, I took a bite. And I was blown away. The focaccino was remarkably light and fluffly. I enjoyed the combination of the ricotta as it made for a much lighter topping than mozzarella. I wanted more than a bite and got another one from my generous nieces who were devouring the black and white focaccino, and this even after the lunch they had before the cooking class.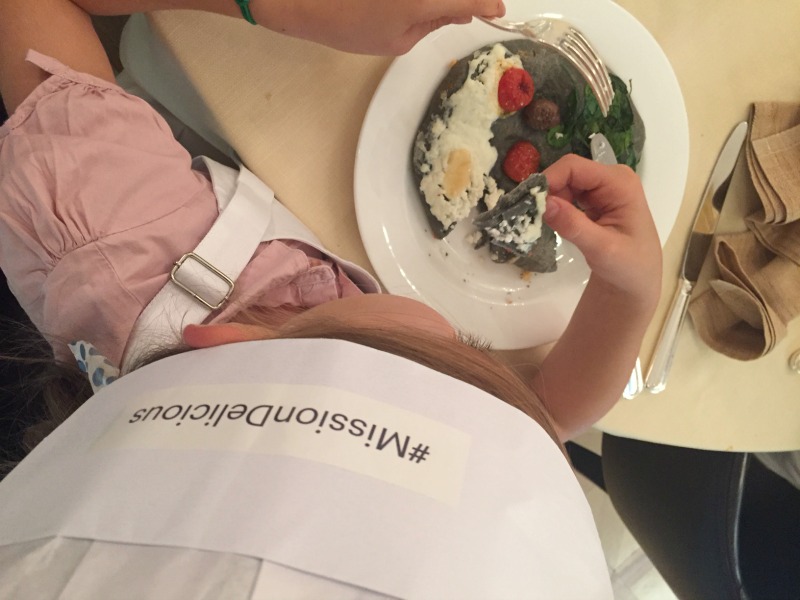 Maddalena, the PR Manager at the Westin Rome, was brilliant in including play time after the wonderful merenda (snack) and the children were energized and ready to go. Westin Rome had another surprise up their sleeves for the children. Play time was in Villa La Cupola, the luxurious and colossal suite which sits on the fifth and sixth floor of the hotel.
With a spring in their footsteps and eagerness to discover what was in store for them, the squealing reaction proved it was something good.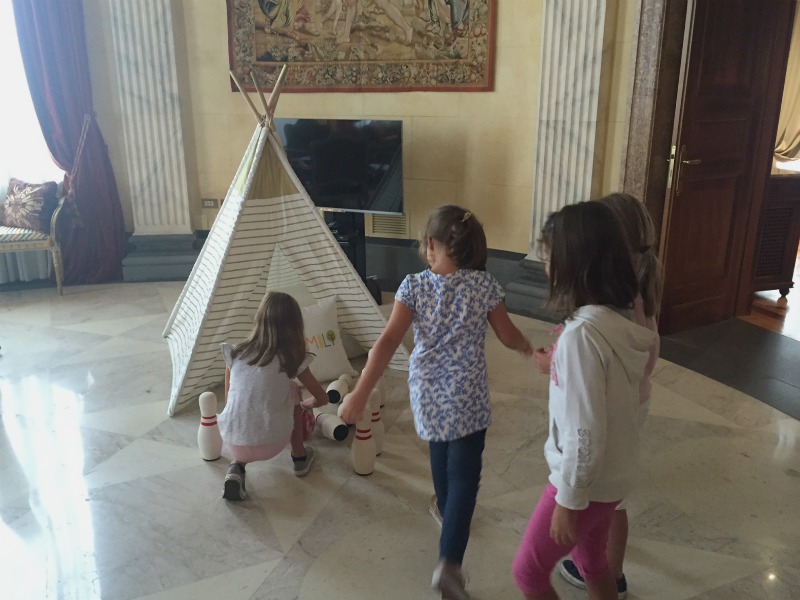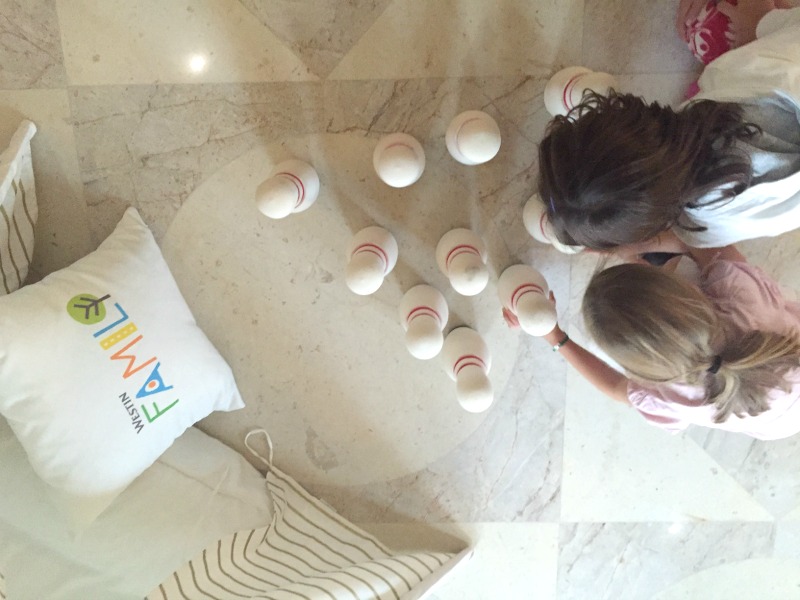 For me, I was squealing in my head as I walked through Villa La Cupola, its opulent rooms and the bedrooms fit for a royalty. The children were in the living room occupied with the bowling game while I was in a daze taking in this stunning room. But that's not all. The villa has a jacuzzi, elaborately decorated and an adjoining gym, both leading to a panoramic terrace with sweeping views of Rome. Blown away!
The children were in high spirits, taking turns between scuttling into different rooms and the bowling game, and so when it was time to leave, they dragged it out as long as they could. I don't blame them as we could have asked for a more relaxing, elegant and luxurious setting to end Mission Delicious.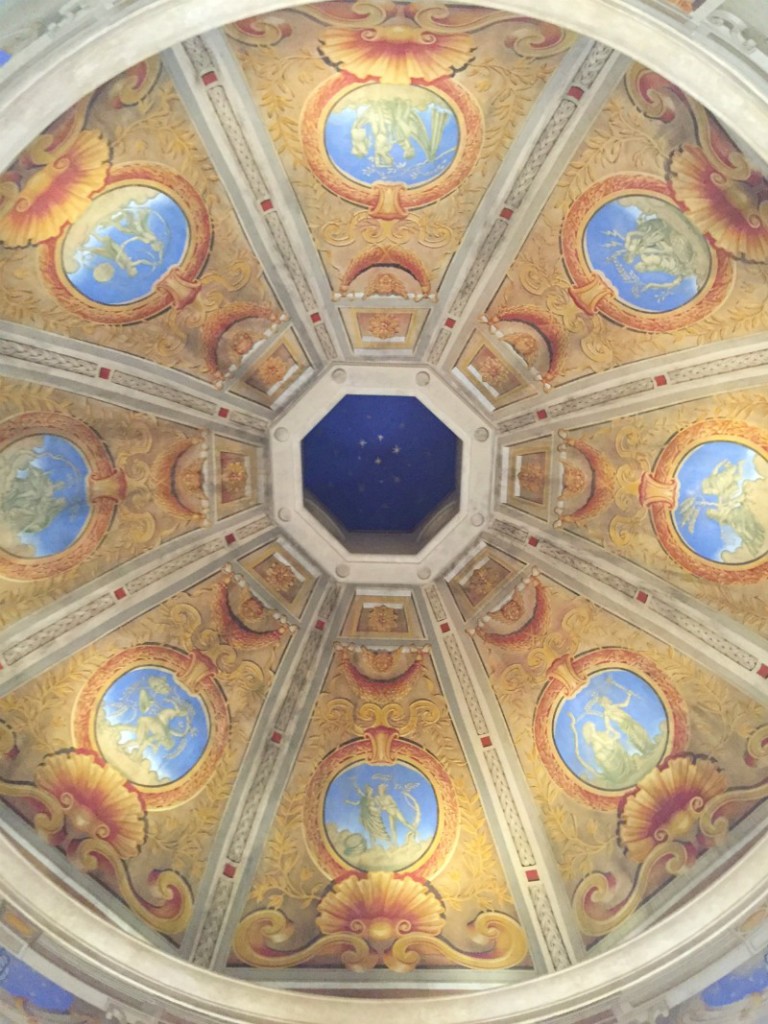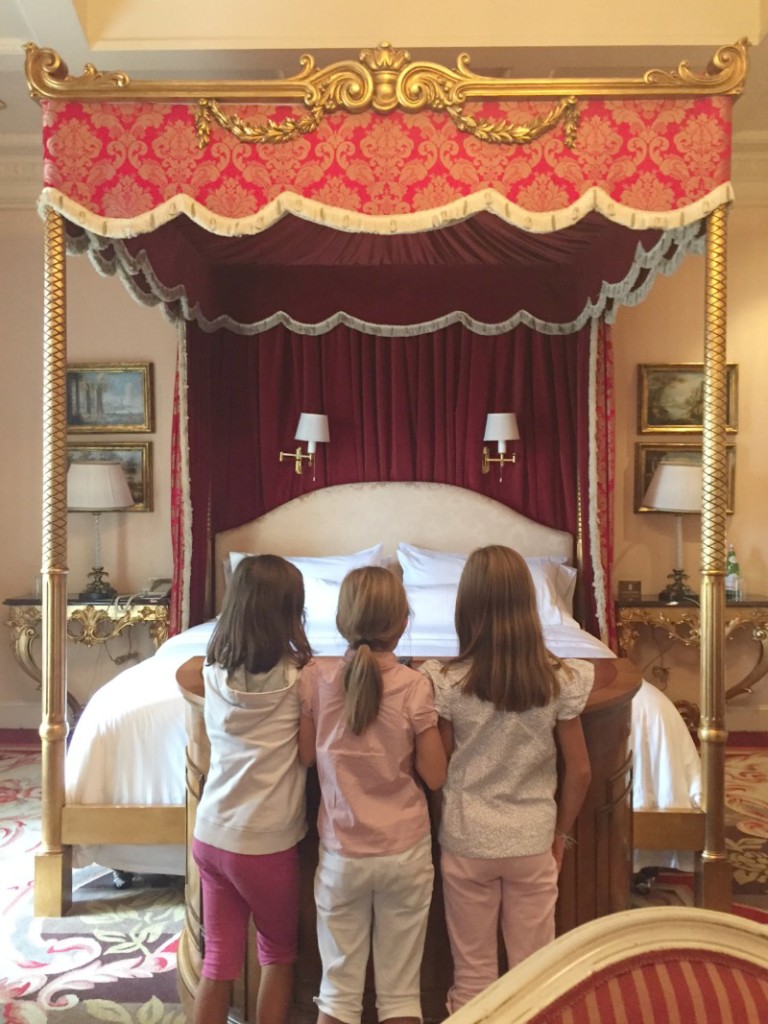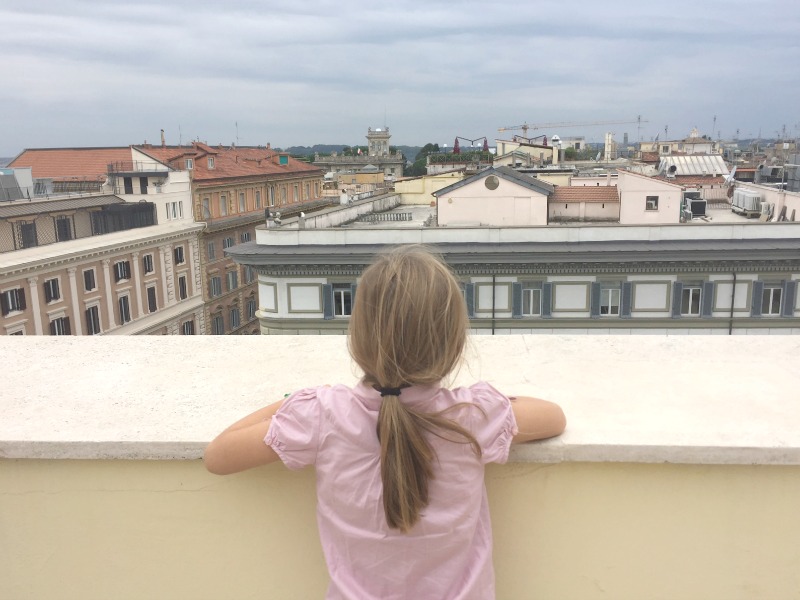 You can say that the Westin Rome got their mission accomplished.
Note: As I was blown away by the light, flavorful and soft black and white foccacino, I pleaded with Maddalena for the recipe which is below.
Black and White Focaccino
Ingredients
1 kg whole grain flour
5-10 grams vegetable charcoal powder
30 grams brewer's yeast
10 grams extra virgin olive oil
1.5L of warm water
40 grams low fat goat cheese ricotta
150 grams cherry tomatoes
100 grams baby spinach
10 gram basil
20 thinly slice parmesan
1 gram salt
1 gram pepper
60 grams roasted eggplants, unsalted
Method of preparation
Prepare simple dough with whole grain flour, brewer's yeast and 1.5 liters of water. Add the vegetable carbon powder.
Let it rest for 6 hours and then prepare the base of the focaccino in a round ball of 150 grams. Let it rest again for 2 hours.
Roll out the dough, add extra virgin olive oil, and the toppings , like the kids did.
Pre-heat the over at 200C. Bake for 8 minutes.
However, you can also bake the focaccino first before adding the toppingg and a drizzle olive oil.
I'll be trying this recipe soon and will update you on how it turns out. Buon appetito!