Positano, Italy is one of my favorite places to spend summer.
Before I share with you more about this spectacular town on the Amalfi Coast, the first time I had heard of Positano was in the movie Only You.
The breathe-taking scenes from that movie from this town on the Amalfi Coast made me promise myself that I will make it there one day.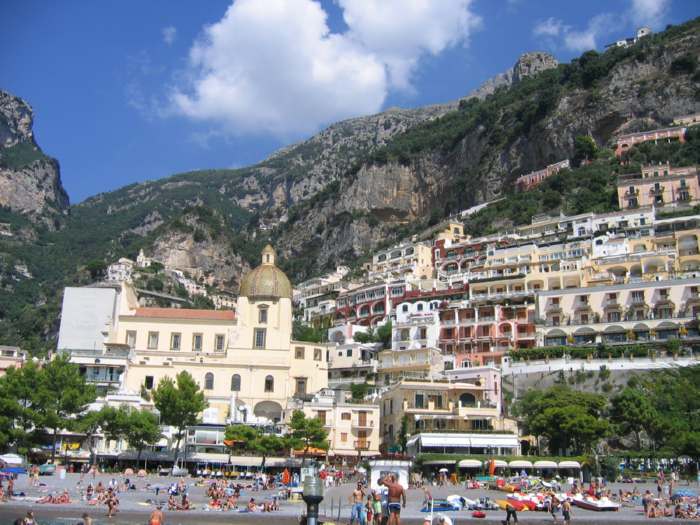 Ten years on I can say I've had the privilege to visit Positano, Italy more than I can remember,  Nonetheless, I still find it unique and special every time I am there.
It's a town that seems unreal and magical. While driving on the coastal road from Sorrento to Amalfi, I always love the first glimpse you get of Positano just before you get to the entrance of the town itself.
This town on the hillside and former fishing village seems to appear out of nowhere making it magical. The view you get on the road which winds down to Piazza dei Mulini is spectacular.
Positano, Italy definitely has its fair share of VIP guests and with hotels like Le Sirenuse and San Pietro, it is often seen as a vacation destination for the rich and famous.  However, the Positano I know is far from that.
Positano, Italy on a Budget
Yes, you can have a great time in Positano without emptying your bank account.  If you are driving there, be aware of the fees for the parking garage. It costs about 30-35 euros per day to park your car and honestly I feel that it's quite steep.
Parking Tips

As such, many people who stay for long periods often park their car outside the town on the way to Praiano.  It's free but you then have to take the bus or walk back to the centre of town.
It's a long walk but it saves you a lot of money if you are there for more than a week.  However, if you are staying for only a few days, you may consider paying for the convenience of knowing that it's a short walk to your car.
Accommodation in Positano, Italy

If staying for a week or more in Positano, Italy consider renting an apartment instead of staying at hotels.  The costs of these apartments start from about 1500euros a week and usually sleep 4 people.
Apartments are often equipped with a kitchen, making it easy for you to have meals at home instead of at the restaurants.  There are small mom and pop grocery shops and though they are expensive, overall it's cheaper than eating out.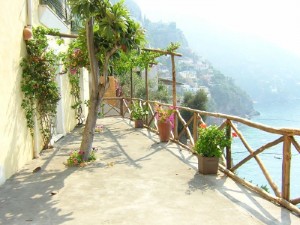 We find it extremely useful to have a kitchen as we often prepare sandwiches for lunch to bring to the beach.
Fortunately for us, we have our own place in Positano.  It really is a pleasure to prepare dinner and dine outside on the terrace which has a million dollar view.  It's a totally different world!
Eating Out
Should you not feel like cooking one evening, there are several decently priced restaurants.
One that we go to is Saraceno D'Oro.  Their pizzas and pasta dishes are decent in taste and price.  However, they are located further away from the center of town and there's not much of a view.
Rest assure that restaurants closer to the beach will undoubtedly charge you a premium.  Give yourself a treat one evening and have dinner at these restaurants by the beach.  They usually offer quality for the price you pay so give it a go.
Beaches in Positano, Italy

The two most popular beaches in Positano are Spiaggia Grande (the Main Beach)and Fornillo (Little Oven).  For both beaches, you have to pay a fee and in turn they provide you with a lounge chair, umbrella, and use of bathrooms, shower and changing facilities.
The Spiaggia Grande is located at the foot of the town and right at the center of the hustle and bustle of things.  As such, most tourists prefer to go to Spiaggia Grande though you have to pay 12euros per person.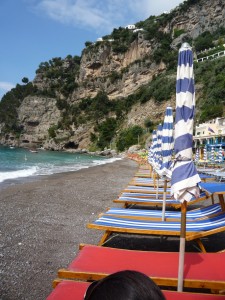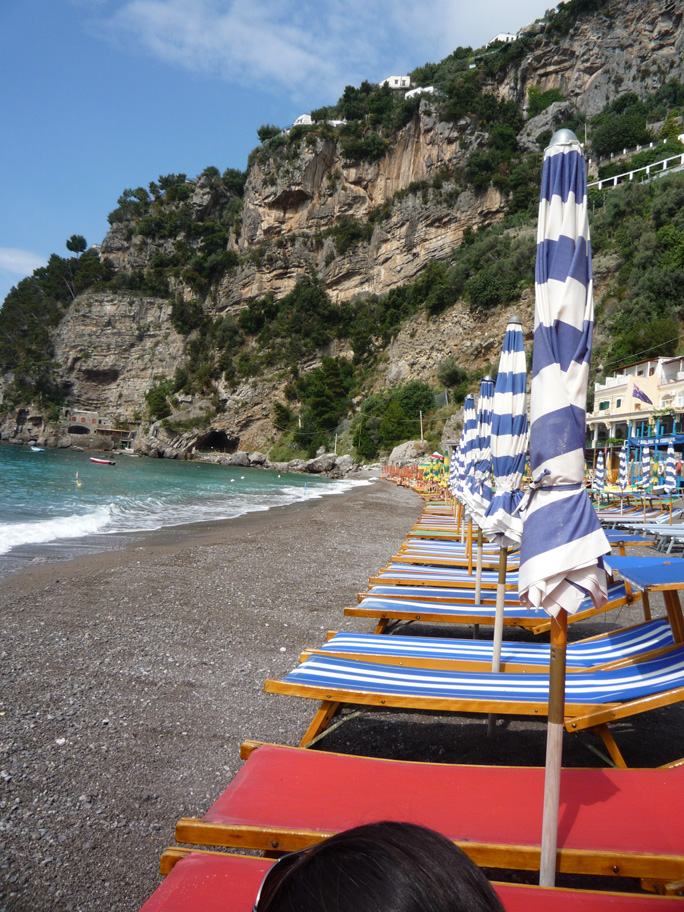 Fornillo is a much smaller beach located at the other end.  We prefer Fornillo as it's more flexible in the sense that you pay for the sunbed (7euros) and not on a per-person basis.
For example, for my husband and I, we usually get one sunbed and take turns using it while at the same time, we lay down a towel next to the sunbed.
I always find it outrageous that we have to pay to go to the beaches in Positano.  I have brought this issue up many times but my husband always tells me that there is a small portion of the beach free for the public to use at both locations.
Obviously, minimal facilities are provided and it's usually the worst part on that stretch of the beach. Taking these points into consideration, I've figured that 7 euros is a good compromise.
Having said all that, if you are coming to Positano, Italy for a special occasion and are willing to splurge, you will find many options which will make it a dream vacation.
At night when we take a walk on the Spiaggia Grande you get a glimpse of people who are here on their dream vacation. Women and men are elegantly dressed and there is  a sense of romance in the air.
However, I can assure you that regardless of your budget, Positano will leave a memorable impression.
The effect that Positano, Italy has on you is best summed up by the words of the author John Steinbeck when he wrote the following – "It is a dream place that isn't quite real when you are there and becomes beckoningly real after you have gone."
These words ring true to me – I always feel like I am in a dream when I am in Positano!
P.S. Another movie that had a few scenes filmed in Positano, Italy was the famous 'Under the Tuscan Sun'.