While planning our trip to Puglia in April, we decided to fly from Rome to Bari.  At that time, we didn't have a car and as we only had 3 days to spare, due to work commitments, the only logical option was to fly.  Although, the flight from Ciampino required us to get up at the ungodly hour of 4am,  at hindsight, Puglia is absolutely worth getting up that early.
As a person who needs her beauty sleep, this is a testament as to how much I adore Puglia!  That is why I am writing this post because you should include Puglia in your travel plans to Rome or Italy.
View Larger Map
Before sharing the details on how to get from Rome to Puglia, many have asked where is Puglia.
Puglia is better known as the heel of Italy and home to the luscious burrata and delicious pasticiotto, spectacular beaches, the charming trullo as well as captivating towns and cities such as Bari, Lecce, Alberobello and Ostuni to name a few.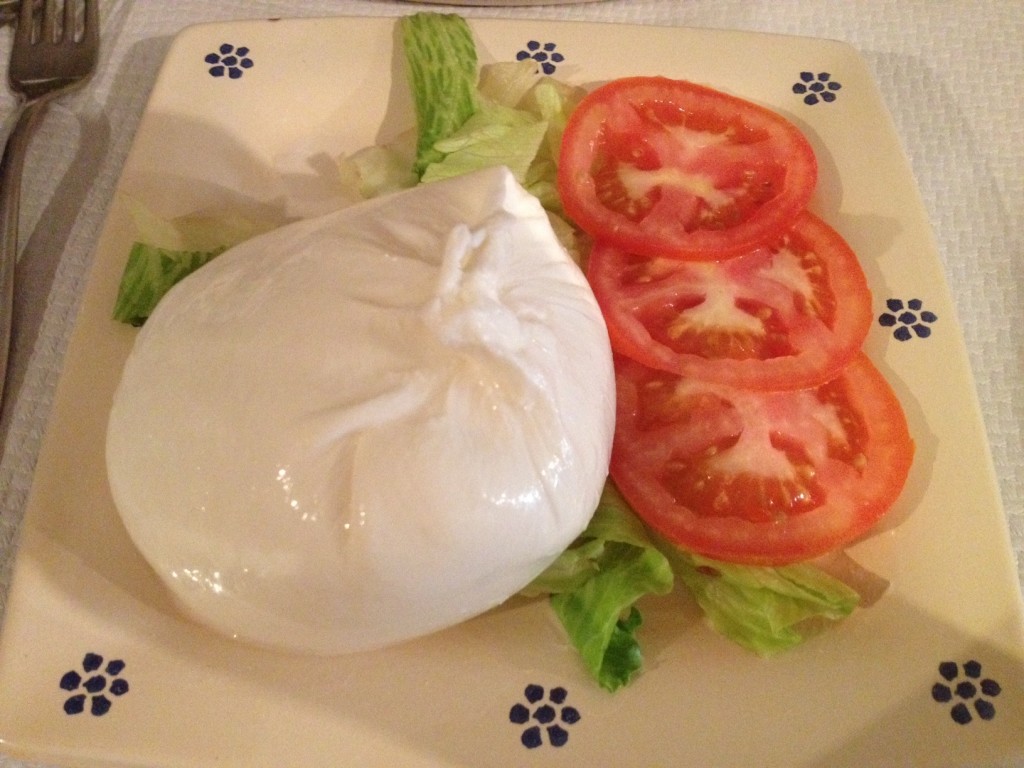 This post will provide you with options on how to get from Rome to Bari and depending on your travel plans, budget and etc, decide what's best for you.  Just get to Puglia!
3 Options To Get From Rome to Bari
Fly and Drive
As mentioned earlier, we chose to fly as it is only a 50-minute flight.  The cost of the flight for the both of us was less than €100 and as we were planning to visit the Itria Valley, we rented a car to get us there.  The car rental for the 3 days came out to about €90 and gas was about €70.  Total Cost: €260.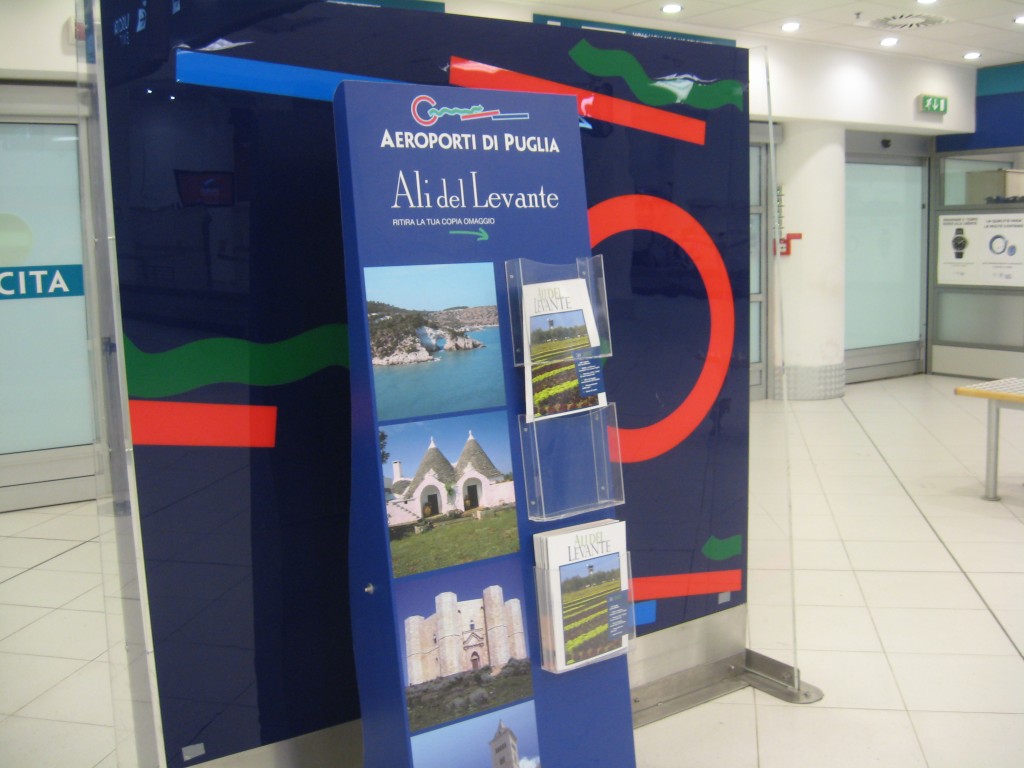 I was actually curious how the airport would be like as I have often heard stories about how run down Southern Italy is compared to the North.  With this idea in mind, imagine my surprise when I saw a modern and clean airport.  Myth busted!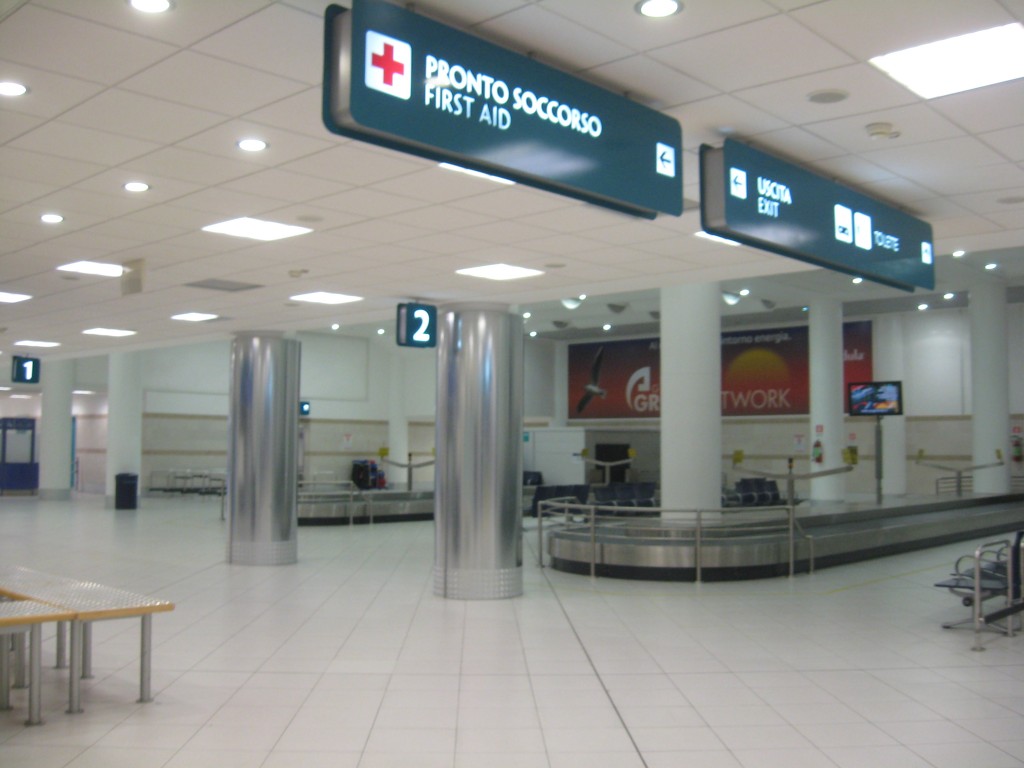 After walking through the sliding door to the main arrival area where the crowd is waiting for their guests, friends or family, the car rental companies are located on the left.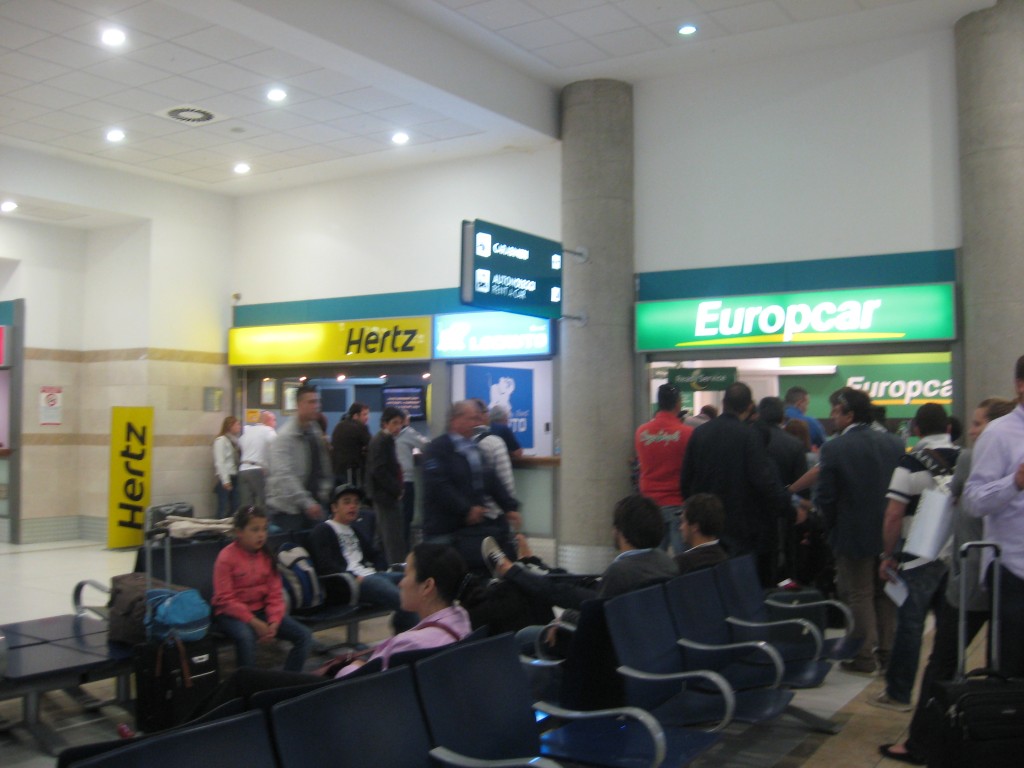 In order to rent a car, make sure you bring a credit card with you.  There was a group of two couples who only brought their ATM /Bancomat and the car rental company refused to rent it to them.
After you have finished the paperwork, head out of the door on the left for a short 5 minutes walk to the car rental parking area to pick-up the rental.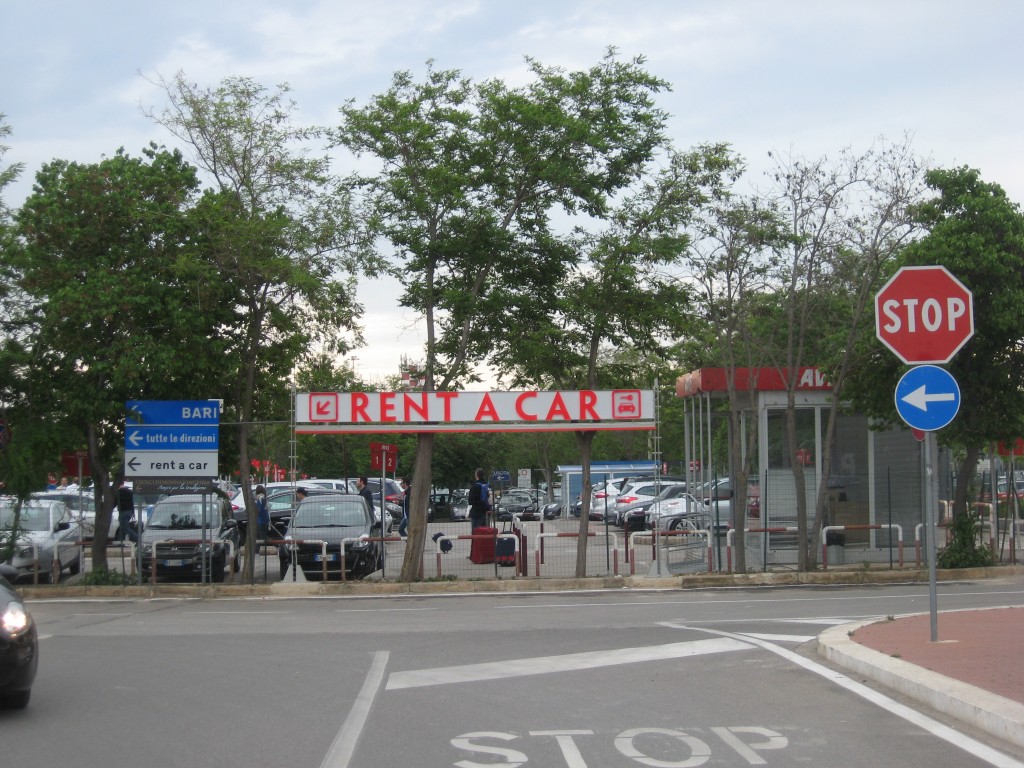 Important Note:  Make sure you check the car thoroughly before leaving the parking lot and inform them of any scratches etc.  The attendant basically didn't bother when we took the car but upon our returned, they did a very comprehensive check of everything.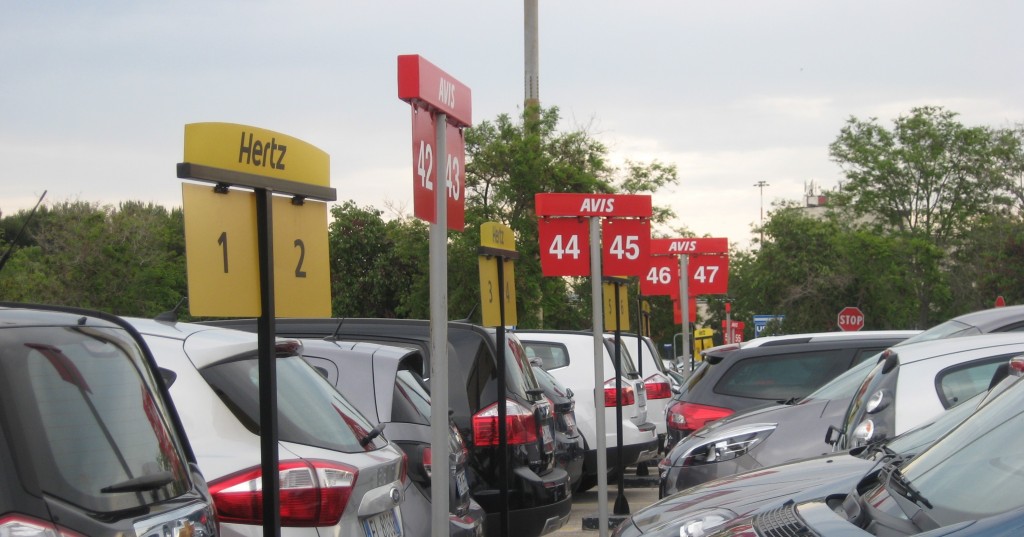 When we were returning the car, there was an English couple doing the same and they were trying to explain to the attendant that there was an issue with their rental. The attendant, not the friendliest person you would find in Puglia, said something to the effect of  "That's their fault for not checking the car".
By Car
Today, by chance,  I spoke with a person from Bari who drives back once a month.  He mentioned that it takes him about four hours but doing a check on Google Maps, it was closer to four and a half hours.  I guess it depends on how fast you drive.
Originally, we had thought about driving from Rome to Bari but for a 4-day vacation, it just didn't make sense. If we had planned to be in Puglia for more than a week, I am sure we would have opted to drive there. Here are some driving routes to get to Bari.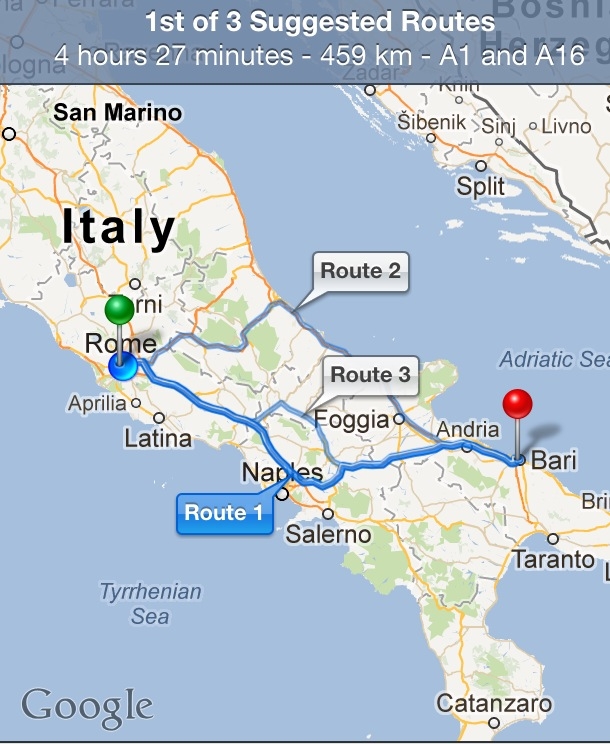 By Train
It also takes 4 hours by train and with this option, you would probably also need to rent a car to get around. Here are some ideas as to the cost of the train tickets from Rome to Bari.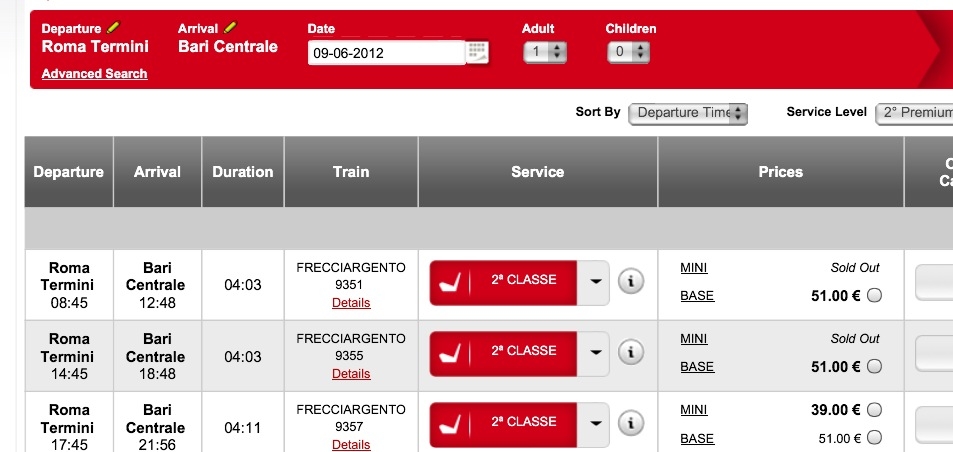 The cheapest ticket based on this quick search is €39 one way per person and the return at €29 means that you would spend more close to €70 per person.
At this price,  flying would probably be a more attractive option. For more details, visit the Trenitalia website (English).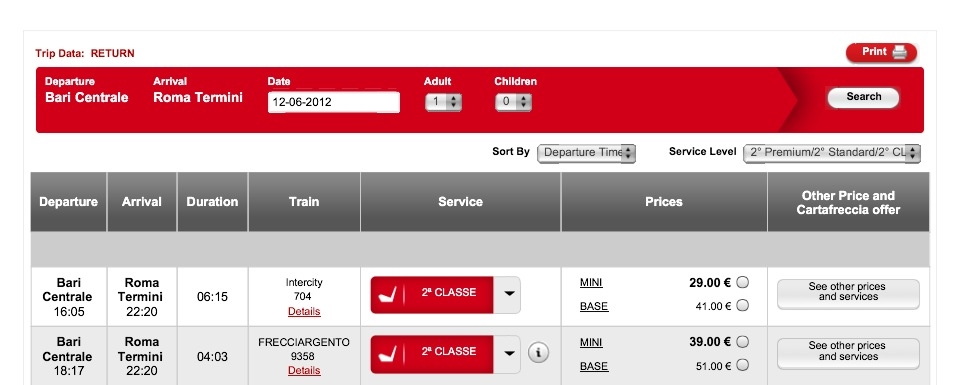 With these options to get from Rome to Bari, hopefully it will give you a starting point to planning your trip to Puglia.
Have you been to Puglia?  How did you get there and in your opinion, what would be the best option?
For first-timers, while we flew from Rome to Bari, another option could be to fly to Brindisi, especially if it is your intention to visit the Salento area.