On the trip to Positano last weekend, there were a few things on my mind that I wanted to make sure I had.  They weren't even dishes but more like bites and two out of three were for those who have a sweet tooth.
Bites in and near Positano
1.  Pane Casatiello and Saltimbocca
On the way to Positano, going through Costiera Sorrentina, we always try to stop at Oasi to get some pane casatiello and saltimbocca.  The saltimbocca is not what you think but rather a panini with melted cheese and prosiutto. While my husband loves the saltimbocca,  what I look forward to is the pane casatiello.

It is soft and fluffy with some serious chunks of prosciutto.  It's a great snack and though I just pinch off a small piece of bread at a time, it's always one too many.  It's just too good to stop!
2. Brioche
The first morning we had one at La Zagara and it was a disappointment.  It was not as soft as the one I had the last trip at the Bar at La Buca di Bacco.  The next morning we headed directly to La Buca di Bacco and it was as good as I had remembered it.  Super soft!

3.  Delizia al Limone
I have always seen this dessert everything I pass by La Zagara but on previous trips, my thing was torta caprese.  This time, I am into lemons and also in order for me to make this dessert, I needed to taste what it's like!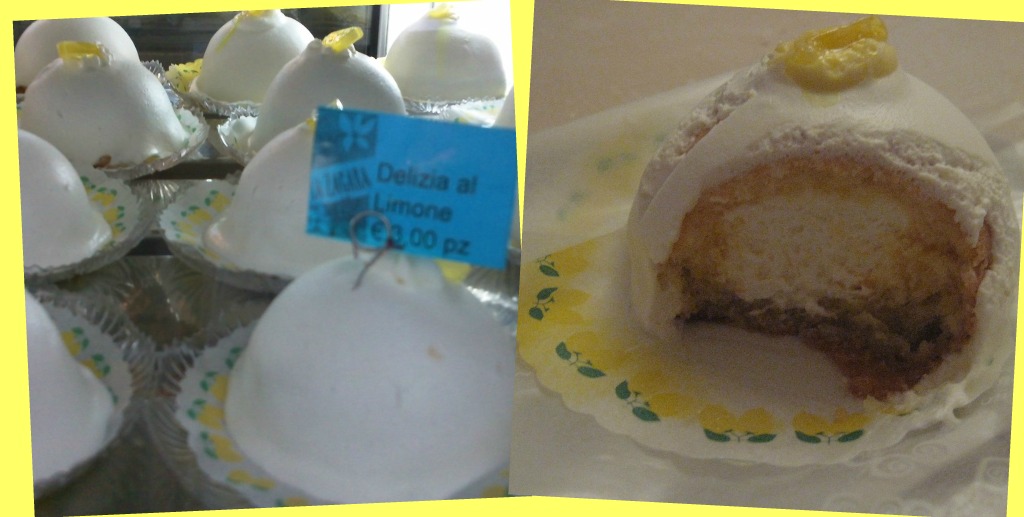 After a bite, I am sold.  This is my new favorite dessert.  A soft sponge cake slightly bathed with lemon juice, limoncello or a mixture of both and filled as well as covered with whipped cream that has a hint of lemon.
There are plenty of other unique dishes here in Positano but for this trip I was happy I had the three bites above.