"Are you sure? It's a 17-km (10.5 miles) walk!"
That was the answer I got when I told Luca about the walk at Lake Nemi which is about a 40-minute drive southeast of Rome. To be honest, I didn't read the details of this guided walk/hike and had my doubts when I heard "17-km".  However, I was sure it would be a nice walk and with the cooler weather we are experiencing, a great reason to be outdoors.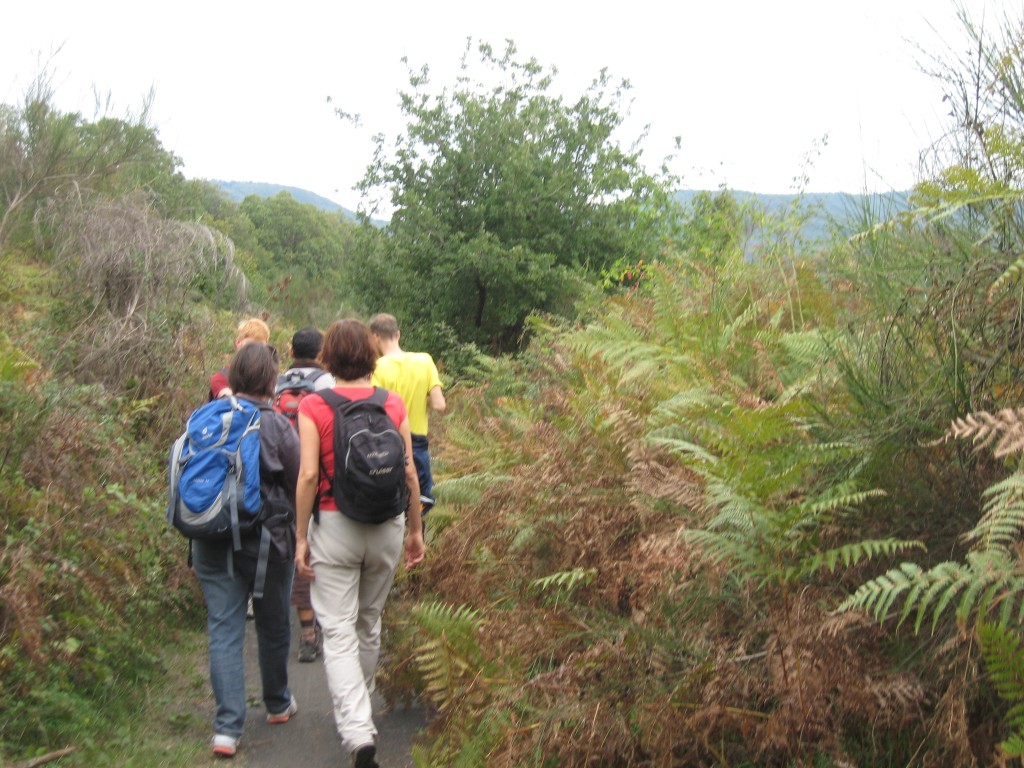 Here are my thoughts on this walk but before that, a big "thank you" goes out to Jeannie Marshall who had written about this on her blog in Spring and last week sent me the link to their website.
Details of the Walk
• The association Io Narrante offers different walks every weekend and last weekend, the walk covered Lake Nemi
• We started in the town of Genzano and made our way to Nemi before the trek down to the lake for  lunch.  Following lunch, it would be a walk along the lake back to Genzano.
• The fee is €10 for adults and €4 for children. There is also a membership fee of €3 valid for a year. You can bring your own pack lunch or alternatively, lunch can be arranged at an additional cost of €12.
• The walk started a bit after 10am and we got back to Genzano at 6pm. Yes, one-full day.
What I Liked
• Our guide, Mattia is an agronomist and very knowledgeable about the area. During the walk, he would point out plants and share interesting facts about them. One example was an area that had its own micro-climate. Here you could see vegetation like the beech tree which would otherwise be seen at higher altitudes.
• Although the guided walk was in Italian, Mattia also made the effort to explain things to me in English.
• It was good to be outdoors and in nature. We were treated to picturesque views and fascinating Roman ruins.
• The fee is very reasonable which makes it possible for everyone to participate.
• Lunch was a banquet, at least for hiking standards. We had appetizers, pasta, grilled chicken and sausages, roasted potatoes, salad as well as wines!
Would Like
• A shorter walk.  A 17-km walk is no "walk in the park" especially because it's a hilly terrain.  While one of highlights was the walk along the lake after lunch, it was difficult to fully appreciate it when you are exhausted.  We weren't the only ones because after lunch, everyone who ordered café wanted it extra-strong. I rest my case.
• On a Saturday instead of a Sunday. Going back to work the next day after a full-day's hike is not easy. We weren't sore (surprisingly) but we were still tired the day after.
• More kid-friendly walk. When I sent the link to my sister-in-law to invite them to join us, she said that it would be impossible for her children to complete a 17-km walk. Last weekend, there was a family with two kids (not older than 10yrs old) on our walk but not long after lunch they left the group and went back to their car.
Mattia was very good at involving the children and while I know my 8-year old niece would enjoy this educational walk, I have a difficult time picturing her doing this walk due to distance and some narrow paths.
• More scenic route.  I know the route is what it is but I thought it'd been more scenic. We only had glimpses of Lake Nemi along the first part of the walk and the rest of the time it was through the forest.  We overheard several others making this same comment.
• More organization. There were probably about 15 people in the group and Mattia often had to round up people.  There were some people ahead, some behind and there was time lost waiting for others.
Tips
• Wear long pants and bring along a light sweatshirt.  Some paths are lined with thorns and in the evening, the mosquitoes are out in full force.
• Bring along some snacks, water and a towel. We didn't have lunch until almost 2pm and along the route, you could hear some moaning about being hungry.  When we got to Nemi, food purchases were made to calm growling stomachs.
• Seek a restroom before the walk. It took us about 3 hours to get Nemi where there was the first sign of a restroom.
• Hiking boots are highly recommended. Though we had tennis shoes, it barely got us through the hike.
Would I do it again?
Overall, it was a good hike and I was able to discover an area that I would never have known about nor have the courage to explore on my own.  If there are other half-day hikes, I'd definitely join in. Even Luca said he'd be up for half-day hikes, an indication that we enjoyed it but the duration and distance was taxing.
There is a 10-km walk for this Sunday, October 14th at Gallicano and even if you decide last minute (like the day before), give them a call and they will be happy to have you join them. And if you are wondering, no, we haven't signed up for this walk – it's a bit too soon after last weekend's.