I am a strong advocate of agriturismi and even before living in Italy, our preference, whenever possible, has been to stay in more hospitable and friendly places.
Since living in Italy, I have stayed at many agriturismi myself and love the idea of getting away from it all in a place that feels like home.  The owners are often friendly and make an effort to ensure you have a pleasurable stay. These are a few of my favorite agriturismi.
Not long ago, I came across a couple who caught my attention as they hand-pick the best agriturismi by personally visiting each one.  Their site shares loads of photos from each agriturismo and allows you to get the "real" picture.  If you are planning a trip to Italy, I highly recommend including a stay in an agriturismo.  Now you know a valuable resource to find the best agriturismi, there's no reason not to do so.
1. Tell us a bit about yourself and what got your started on this idea of visiting every Agriturismo?
We wanted the best job in the world… and we've got it! Joking aside, we had a blog called Umbria Lovers on which we related our experiences of the Umbrian region – things to do, that kind of thing.
Lots of people asked us for advice on places to stay and we'd always say, "We can't suggest places that we haven't tried!". It started there. Firstly, we visited 100 Agriturismi in Umbria and we realised how important it is to get to know the owners to see how welcoming they are and if the place and the rooms reflect what you see on their websites. And out of that came AgriturismoLife.
Now we're visiting Agriturismi throughout all of Italy to make sure that no nasty surprises await guests.
2. What is the best part of visiting each Agriturismo and what are the challenges?
The best part is getting to know the owners. An Agriturismo is also a working farm which opens its doors to tourists. So the owners are farmers who earn their money by working the land and growing real produce.
Just to spend an hour with people like this gives you a sense of calm. They're so relaxed, passing their days according to the rhythm of nature. They're the 'wise' ones – not stressed at all. A rarity in today's modern world.
Of course the biggest challenge is finding them! The Agriturismo as an idea is very successful and like many things that generate money, entrepreneurs and 'fake' Agriturismi have popped up. These are more like hotels in the country rather than Agriturismi in which you won't find the same experience and family welcome.
Thankfully our 'radar' is pretty sophisticated and our techniques tried and tested so we're successfully searching out the real and genuine Agriturismi of Italy.
3. You have given descriptions of Agriturismi on your website. How many have you visited and in which regions?

We've visited around 300 Agriturismi, travelled 5000km and seen lots of hills, vineyards and country roads! We started in Umbria, then Tuscany, Le Marche and Lazio and we'll be covering Liguria, Piedmont, Sicily, Puglia and Trentino next. By the end of the year, we're aiming to have visited Agriturismi in half of Italy.
4. What would be the top 5 reasons to stay in an Agriturismo instead of a hotel?
– In a hotel, the concierge smiles because he's paid. In Agriturisimi, the owners smile because you're guests in their home.
– Quality of stay: our Agriturismi are surrounding by countryside, nature, birds and animals that ensure a quiet and peaceful holiday.
– Price: the average rate in an Agriturismo is €35-€40 per person, per night… and we're not talking about a grotty two-star stay.
– Food: in those Agriturisimi with restaurants (not all of them have them), the food is mainly produced by the owners. You can enjoy the 'real' taste of tomatoes that's completely different to those from a supermarket.
– Friends: the owners of every Agriturismo that we feature on AgriturismoLife have strangely said to us: "Guests that spend a few days together in our Agriturismo end up as friends and plan to come back together the following year".
Of course, because there is such a family feel to a 'real' Agriturismo and, apart from relaxing, you can also rediscover the art of socialising! It can be so difficult today to talk with strangers that it's become a rare event. But in an Agriturismo it just seems so easy.
5. Could you narrow down 5 Agriturismi that you would highly recommend?

All of the Agriturismi that we have on the AgriturismoLife website are special to us so we'd naturally recommend all of them! Remember that they've already been personally selected from hundreds of Agriturismi – in Umbria, for example, there are 1300 in total and we've chosen just 20 of them!
However, we've answered your challenge and here are the names of five of them:
Quercia del Pentimento: run by all the family – grandparents, parents and children – working altogether.
Il Moro degli Alpaca: they breed alpacas (like llamas) for their wool.
Le Rocche: it's like having a little Umbrian Medieval hamlet all to yourself.
Quarantallina: owner Mario is an artist-farmer who's great fun.
Grazia: it has apartments that make you feel as though you've been transported back to the Italy of the '50s!
6. Share a photo that best represents where you live and why you chose it.
Us in the Umbrian countryside.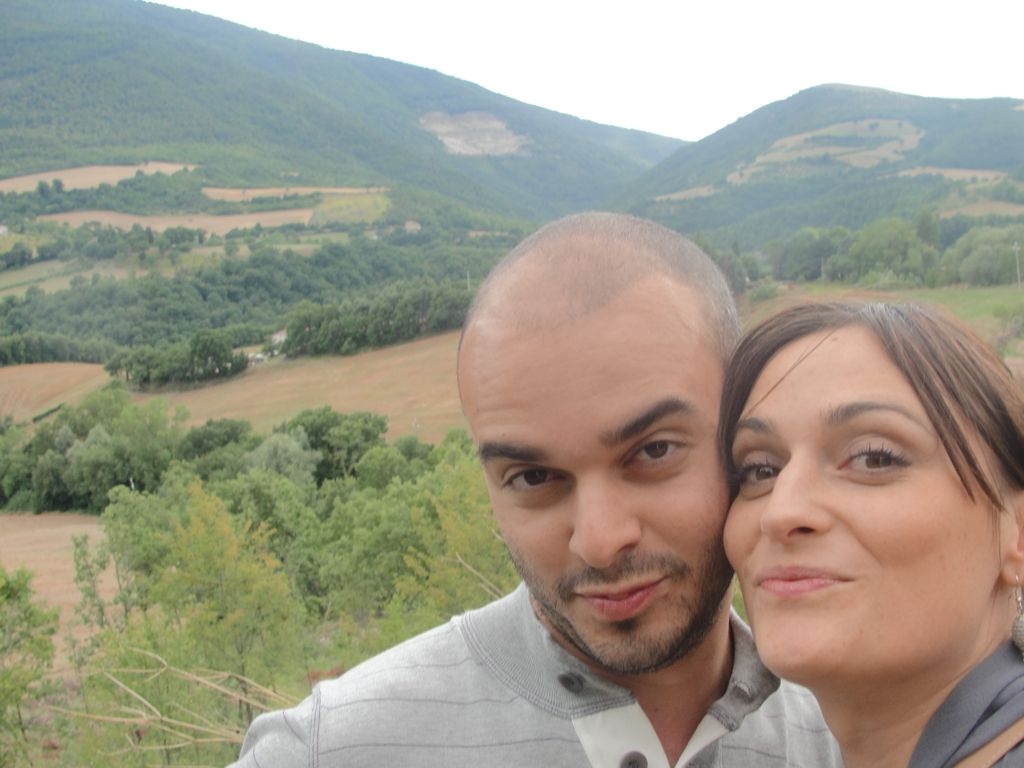 P.S.: you can find (and use) some great pictures from us here:http://www.flickr.com/photos/agriturismolife/sets/72157627504535633/