I have never been to the Cinque Terre before this trip and have always heard how it's very similar to the Amalfi Coast. As we are very familiar with the Amalfi Coast, I was keen to visit the Cinque Terre only to see if it is that similar. With plans to stop one night half way on the road trip from Rome to Provence, I took advantage of this opportunity and Cinque Terre was the ideal place.
While doing research on Cinque Terre, it came as no surprise that the best way in getting there was by train. With the five towns (that's why it's called Cinque Terre) Monterosso, Vernazza, Corniglia, Manarola and Riomaggiore all clinging on the coastline, getting there by car and finding parking can be an issue.
Adding to that we were staying there on April 24, a national holiday in Italy, which meant almost every hotel which offered parking was full (or ridiculously expensive). After much perseverance (& frustration), we found a place to stay. Here is a look at our 24 hours in Cinque Terre with handy tips and advice.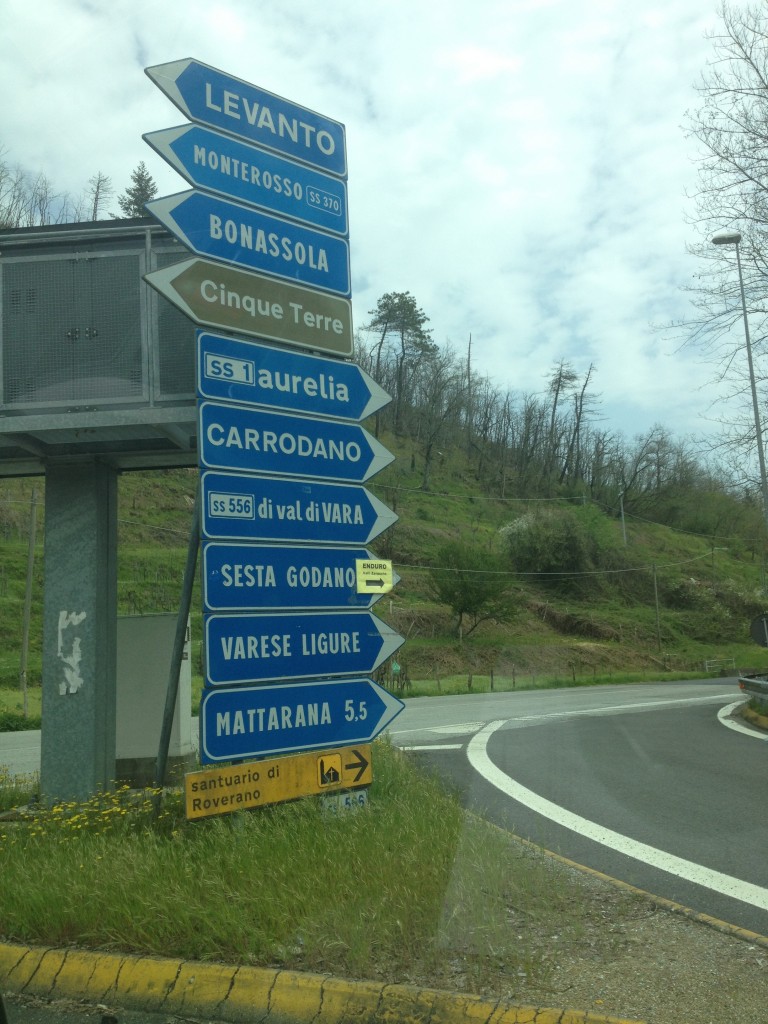 Accommodation
We almost decided to skip Cinque Terre altogether as we couldn't find a place and last minute we were fortunate that Hotel La Spiaggia in Monterosso had availability. They had quoted us a rate of €150 a night for a double room (no balcony) which included buffet breakfast and parking. You may find it pricey but considering the timing, it was reasonable. It was also a plus that we could basically drive up and stop 10 meters from the hotel to unload.
Parking is not in the public parking area that is available on the beach front but a reserved place 50 meters behind the hotel and under the rail tracks. Though it's not a secured area and a bit tight, we didn't feel uncomfortable leaving the car there.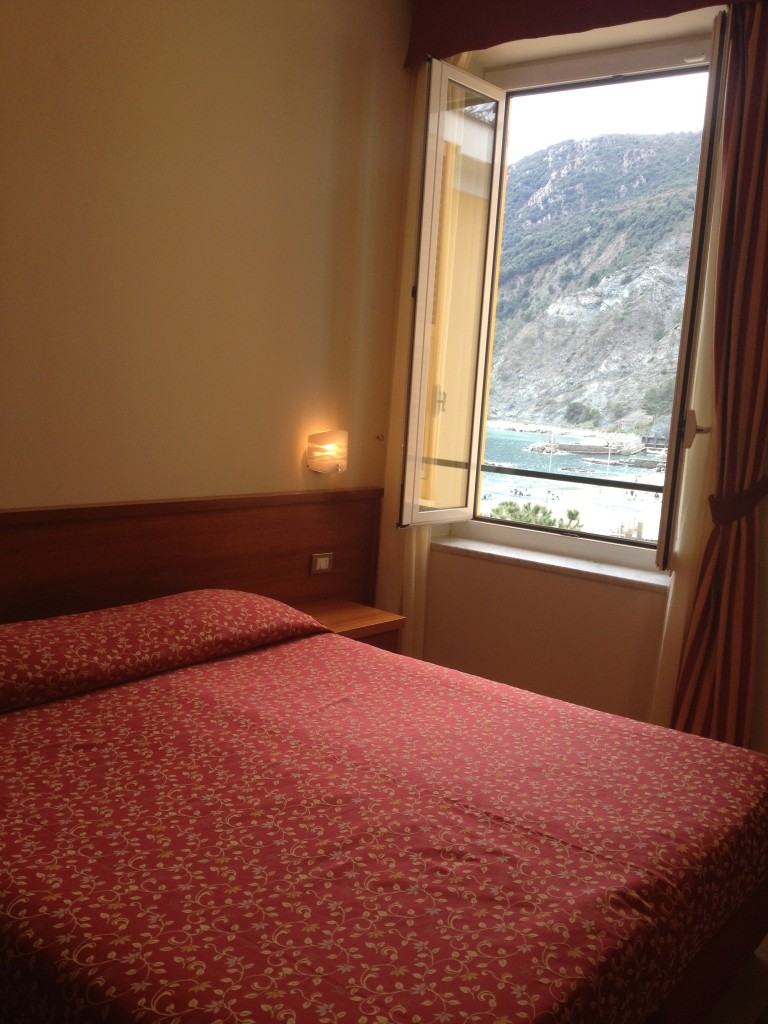 Our room was simply furnished  and while it is an average-sized room by Italian standards, many would probably find it small. The same would be said for the bathroom. It was fine for us and more importantly, the room was clean. I was initially concerned about the noise because of its location by the beach and though there was some noise from the street with the windows open, we had a quiet night.
The hotel is in the new town of Monterosso and ideally located. It is only a few minutes walk from the train station, close to plenty of restaurants and only about 10 minutes to the old town through the pedestrian tunnel. Staff are friendly and very helpful in giving advice even before we got there. There is however one oddity – they don't take credit cards.
Getting Around – Ferry and Train
Here is a detailed post on getting around Cinque Terre by train which is probably the best way to get to all five towns if you are not hiking. However, we opted to first take the ferry from Monterosso to Riomaggiore as the views of the five towns from sea must be spectacular. And they were! To purchase tickets and board the ferry head to the docks of the old town. Once you are out of the pedestrian tunnel in the old town, it's on your right.
Here's the schedule until June 2013.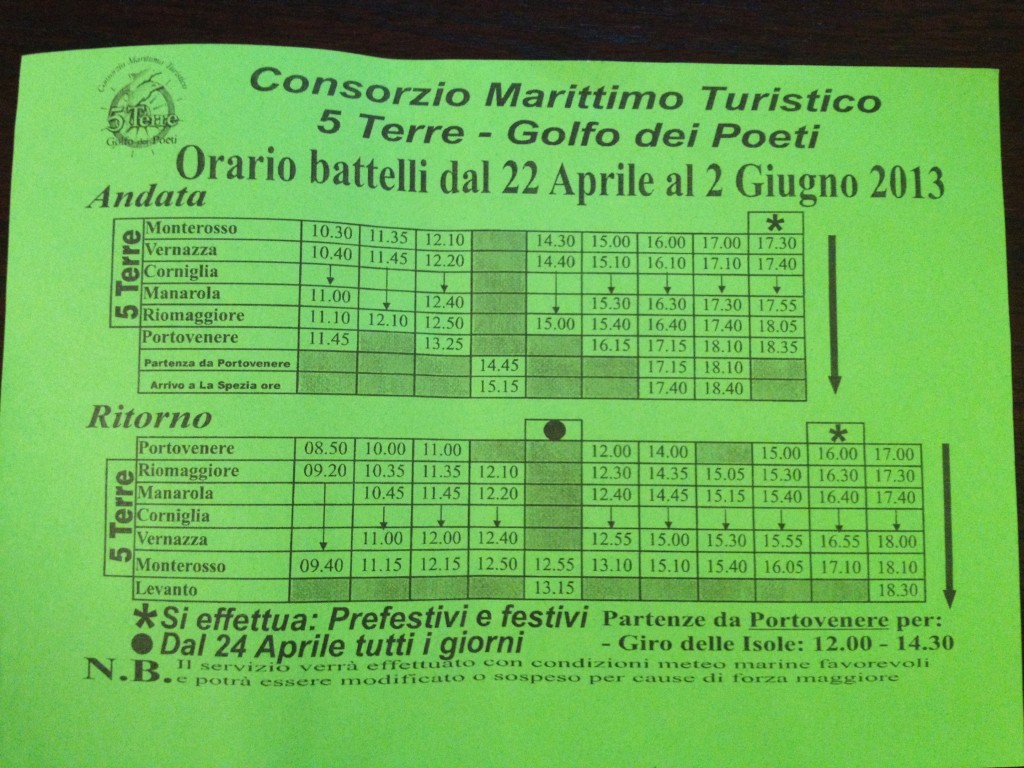 We had planned on visiting all 5 towns and once we saw the train schedule, we knew it was impossible to do so in 24 hours. We purchased a ticket for €4 that was valid for 6 hours headed in one direction with unlimited stops. And don't forget to validate your tickets at these machines.
Trains didn't run as frequently as we had thought and don't expect them to be on time. All the trains we took were delayed and as it already packed in April, I can imagine it must be extremely uncomfortable in peak season. The only plus is that it's only a few minutes ride between the 5 towns.
Below is the ticket pricing option together with the tariff for the park that was taped on the wall in the train station.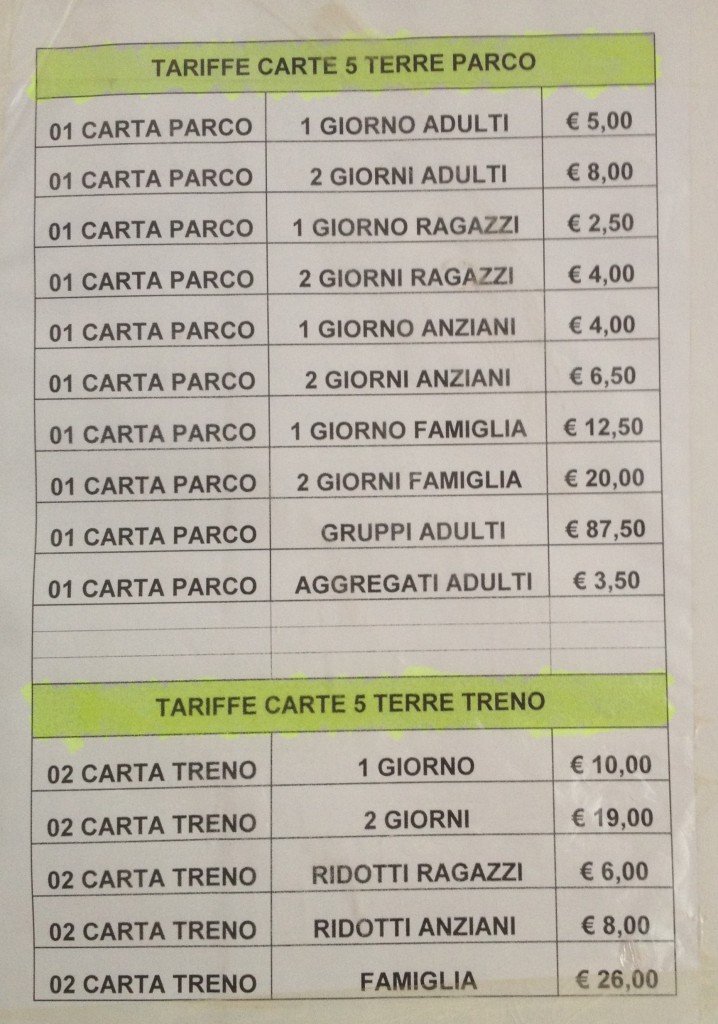 Note: If you plan on hiking we were informed, at the time we were there, that only the hiking paths from Monterosso to Vernazza and Vernazza to Corniglia are open. The Via dell'Amore from Riomaggiore to Manarola is closed.
Towns
Many articles have been written on what to see and do in the Cinque Terre. Below are links to the resources which I used for my trip. With 24-hours, we only had time to walk around each of the three towns and entered a couple of remarkable churches.
To enjoy the atmosphere of each town, start out early. The morning we left, we went for another walk around the old town of Monterosso and as there was hardly anyone around, it was more enjoyable and you get to fully appreciate the charm of the town.
Rick Steves' Guide to Vernazza and Monterosso
Places to Eat
Making our way to the old town, we stopped to get a foccacia at Il Massimo della Focaccia only to discover we had to wait for 20 minutes for the focaccia which were still in the oven. We decided to try another place in the old town but the next day we were back here. Service can be a bit slow but your patience will be worth it.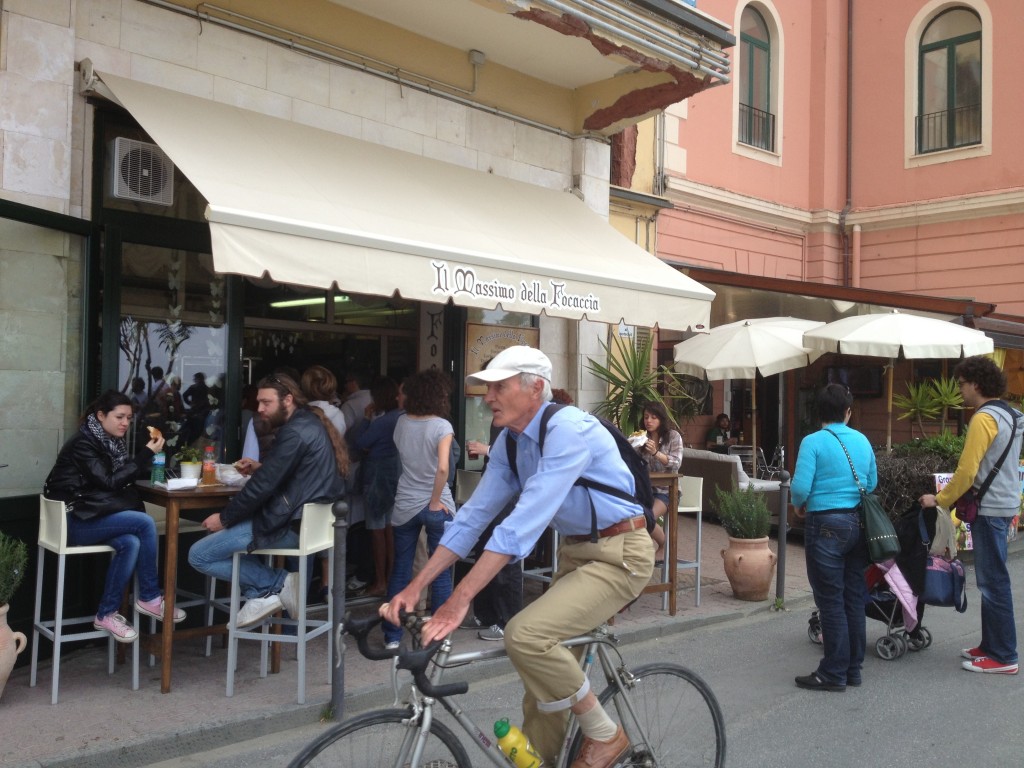 We decided to try another place, Ely in the old town. There were lines here too and only a few focaccia were still available. They were good and I am probably going to get in trouble for saying this but it didn't wow me. The focaccia in my neighborhood bakery is as good if not better.
Dinner
The last time I had pesto in Liguria, it was heaven and was looking for the same experience.  I should know by now not to have high expectations. La Cantina di Miky came highly recommended and we had asked for a table near the beach. The tables though were tightly packed one next to another which meant we were privileged to the conversation of the tables to the left and right of us and vice-versa.
The appetizer started well. The dish of baked anchovies were cooked perfectly and I was eager to have the pesto. It was a test of patience and after a significant wait for the primo (pasta), I even commented that they must still be picking the basil. When it finally come I was ready to dig in only to find the dish incredibly salty. What a disappointment!
It felt as if the chef had forgotten he had already added salt to the pot of water and added another handful. I admit I use salt sparingly but if my husband says it's salty, that's saying something. It was a pity really because when I used a piece of bread to taste the pesto sauce without the pasta it was heavenly.
I came very close to sending the dish back and at the end, I decided not to. The hotel had also recommended La Barcaccia which was nearby and in hindsight, we would probably have eaten better there.
Is Cinque Terre similar to the Amalfi Coast?
The coastlines and the cluster of color homes on these two coastlines are similar but apart from that there are more differences than similarities.
Driving to Cinque Terre we already noted the difference. The drive which offered incredible views was inland while on the Amalfi Coast you'd be on the coastline in awe at that cliffhanging drops. That said, both drives are windy and filled with tight curves!
From our brief stay in Cinque Terre it was clear that it draws hiking enthusiasts more than beachgoers. There were many people in hiking gears and while there is a good hiking path in the Amalfi Coast, you'd see more people in beachwear.
However, it is so much easier to travel between the Cinque Terre towns thanks to the train. In the Amalfi Coast, you'll have to depend on the bus or for those who can afford it, a private transfer.
Have you been to both the Amalfi Coast and Cinque Terre?  Which do you prefer and why?